The truth about home automation is, there isn't a perfect hub.
Shocked? You shouldn't be.
Build something from parts designed by committee and you have the indecisive IoT industry. It's not the fault of companies like Hubitat or open source efforts like Home Assistant that have been trying to assemble these disparate bits into one cohesive solution. It's a noble goal to bring it all under a single platform, but industry fragmentation, combined with the rapid Build > Promote > Decommission cycle have continued to make it very difficult for any one company or group to completely get ahead of the curve. The Hubitat team have added an incredible number of compatible devices in just 3 years, but there are still some cloud integrations and Zigbee devices that are not yet compatible with Hubitat Elevation, or the necessary apps and drivers to make them compatible have yet to be created.
Home Assistant has been around for 7 years and in this time, the open source community has built a fairly large list of cloud integrations and support for low cost Zigbee devices like Xiaomi Aqara and Mijia devices. There's no reason not to combine this capacity for cloud integrations and low cost Zigbee devices with Hubitat Elevation's powerful and easy to use automations. Best of all, you never have to touch YAML

Table of contents
Building Bridges
Fortune smiled upon us all when @ymerj took the initiative and built a fantastic foundation for @ogiewon, @tomw, and @stephack to add their excellent contributions to create Home Assistant Device Bridge. With this driver and optional app combination, Hubitat Elevation owners can now take advantage of the available device integrations from Home Assistant, and combine them with the easier to use automation and powerful capabilities found in Hubitat Elevation.
No virtual devices required

No Home Assistant automations needed

No MQTT broker needed

No individual device setup needed

No custom firmware flashing

Devices from Home Assistant appear in Hubitat Elevation, fully functional and ready for use in automations.
Requirements
NOTE: This driver uses the Generic Component Drivers built into Hubitat Elevation. At the moment, there are no built-in Generic Component Illuminance Sensor or Generic Component Pressure Sensor drivers. Therefore if you need these components, you will need to also install the child device driver code for each.
Installation
If you've never installed an app, then you're obviously not currently using Hubitat Package Manager. You can either learn to do that first, or you can simply install the Home Assistant Device Bridge Driver and App.
NOTE: The Home Assistant Device Bridge app isn't required, but it offers many benefits that make the simple process of adding the app very worthwhile.
How to install a custom driver in Hubitat Elevation
How to install a custom app in Hubitat Elevation
Setup
Step 1 - Enter the IP address of Home Assistant and the Long-Lived Access Token (see instruction below)
* How to create a Long-Lived Access Token in Home Assistant
Press on your user account in Home Assistant


Scroll down to the bottom and select CREATE TOKEN


Name your token (This can be any name you want.) and then press OK.


Copy the token. It isn't accessible after creating it, so if you forget to record it somewhere and need it again later, just delete the old one and create a new token for use in Home Assistant Device Bridge.

Step 2 - Press Discover and select devices to poll Home Assistant for installed devices.
Step 3 - If you want to select all devices and then just de-select a few that you don't want to have on Hubitat Elevation, then it's easiest to enable the Select all devices option. The switch will turn on and then back off. This is normal and all the devices available will be selected for import to Hubitat. If you decide that's not what you want, then just enable the De-select all devices option.
NOTE: The app will only deselect devices in the list, it will not delete created child devices. You have to delete each manually if needed.
Step 4 - Confirm and adjust which devices should be imported. You can adjust this later if you make a mistake or change your mind.
Step 5 - Press Done. In your list of Hubitat drivers, you will see the Home Assistant Device Bridge parent device (or the custom name you set in the app) and all the compatible devices from Home Assistant will begin to populate with child devices in Hubitat, upon each device update.
Example: Motion sensors will appear automatically when they are triggered for the first time after selecting them for import to Hubitat.
NOTE: Only devices that currently have a Generic Component device driver in Hubitat Elevation, and are also listed in the table below as compatible with Home Assistant Device Bridge will be imported to Hubitat Elevation. The current exceptions are Generic Component Illumination and Generic Component Pressure. These will appear in Hubitat if you added the additional child device driver code linked above in the requirements section.
Example of imported child devices (each will appear on first activity after selecting them for Import to Hubitat)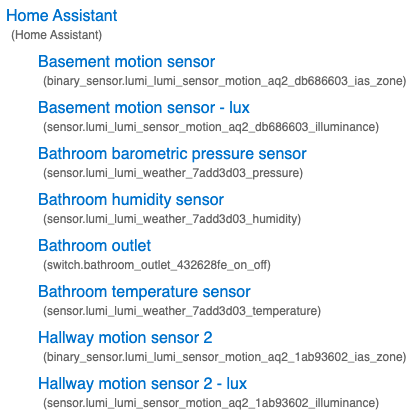 Device types that can be imported by Home Assistant Device Bridge
NOTE: Color adjustments for RGB bulbs are not available.
| Device Type | Generic Component Driver |
| --- | --- |
| Door | Generic Component Contact Sensor |
| Fan | Generic Component Fan Control |
| Garage Door | Generic Component Contact Sensor |
| Humidity | Generic Component Humidity Sensor |
| Illuminance | Generic Component Illuminance Sensor |
| Light | Generic Component Dimmer |
| Moisture | Generic Component Water Sensor |
| Motion | Generic Component Motion Sensor |
| Opening | Generic Component Contact Sensor |
| Presence | Generic Component Presence Sensor |
| Pressure | Generic Component Pressure Sensor |
| Switch | Generic Component Switch |
| Temperature | Generic Component Temperature Sensor |
| Voltage | Generic Component Voltage Sensor |
| Window | Generic Component Contact Sensor |
| Door | Generic Component Contact Sensor |
After import, devices joined to Home Assistant will be available for control from Hubitat Elevation, and can be used in Hubitat apps and Rule Machine rules, just as you would any other locally joined device.
NOTE: This integration adds devices from Home Assistant using their Entity ID. Button devices do not create Entities in Home Assistant and cannot be imported to Hubitat Elevation. If you want to use a button device that cannot be joined directly to Hubitat, you should check out the Hubitat Integration from @jason0x43. It does the opposite of this integration and imports Hubitat devices to Home Assistant. With Jason's integration, you can create Hubitat virtual switches and share them with HA. Next, you would create an automation for each button in HA, so when a button on the device joined to HA is pressed, that will activate the virtual switch in Hubitat.
[Update] Moved to Release status