Since Xbee devices were taking the Xiaomi devices - are they pairing / staying connected for you? thread off track and info is scattered between here and the SmartThings forum.
I figured I would create a thread for everything Xbee related.
These are great little devices to use as routers to extend your network and for mapping out your zigbee network.
They have made my Xiaomi devices stable routing through them and have extended my SmartThings arrival sensor range.
They can also route 12-20 (depending on xbee model) other devices through them VS a standard plug which can usually only do around 6.
First change your hub zigbee away from channel 25-26 (see below)
I found channel 20 worked best for me.
You should also move your 2.4 wifi channel on your router away from channel 20 just to keep any interference on your zigbee mesh down.
I use the xbee3 XB3-24Z8ST RP SMA antenna and XB3-24Z8PT (pcb antenna already built in)
I bought direct from Digikey (which I would recommend) or mouser
There are lots of different styles regardless which one you get make sure it is a zigbee not a 802.15.4 they are terrible at having both in their description but 802.15.4 will not work. basically the zigbee version have a Z in their model number.
RP-SMA antennas are just like the 2.4 wifi ones off your routers.
you will also need a usb adapter board to program the xbee and to optionally power it.
I preferred the digikey Grove USB board part number 602-1979-ND
(note surface mount xbee will require a surface mount usb board not this one)
another cheap Xbee adapter option that works from Ebay
Not recommended now due to missing a reset button
May have issues with initial programming and does not have a reset button for programming.
Better to use as just a power source.
Ebay Xbee USb adapter arrived after about 2 months and it appears to work fine with my Xbee3, not bad for $2.62 US.
you will need a mini usb cable for it instead of a micro usb cable.
Note: when writing settings to your Xbee to be careful to not use the scroll wheel on the mouse it grabs the wrong settings sometimes
Xbee3 (router) configuration (all settings not listed are set to default settings)
CE = join network (0)
ZS = 2
NJ = FF
JV = 1 (I changed to 0 after pairing to the hub to keep the Xbee on the same channel after power cycling I have never seen it change but just to be safe)
EE = Enabled (1)
E0 = 1
KY = 5a6967426565416c6c69616e63653039 (standard home automation key)
(but will be blank after you write and try to read again it is a write only option for security)
NJ = FF (to extend the joining time might help devices pair to them first)
NI - (name it whatever you like)
NH = FE (latest firmware 1005 maximum is FE now) (I set to max so devices could travel farther by being able to travel through more routers)
DD = 3000C
N0 = 3
BD - 115200 (7)
AP = API enabled (1)
A0 = 1 (not sure if it matters but changed from 3 to 1 due to this note in the manual
"Setting AO = 1 is required for the XBee3 Zigbee RF Module to use the Explicit Rx Indicator frame - 0x91
when receiving RF data packets. This is required if the application needs indication of source or
destination endpoint, cluster ID, or profile ID values used in received Zigbee data packets. ZDO
messages can only be received if AO = 1."
I have not seen this setting make any difference)
SP = AF0
SN = 130
D8 = disabled (I do not use them so why have them enabled)
D9 = disabled (I do not use them so why have them enabled)
PL = 4
- end devices settings below same settings as above except these
(end device will not route or scan your network)
AP = 0 (for an end device)
SM = 5 (has to be not 0 for end devices)
then press reset on your USB adapter board
of course to pair it after writing all the settings remove power from the xbee then put the hub into pairing and repower the xbee. They pair as devices but still function.
I am no expert these are just what worked for me there maybe (are likely) better settings
Why end device settings if you cannot route or scan your network with end device settings?
These Xbee3 have a range up to 2 miles and are programable with micropython so in theory we might be able to program them and use them as a high powered arrival sensor for perhaps your vehicle.
I have not figured out micropython code yet and a DH would still have to be made.
thanks to Dan.T we now can use Xbees as arrival sensors !
You can display it as a graph like this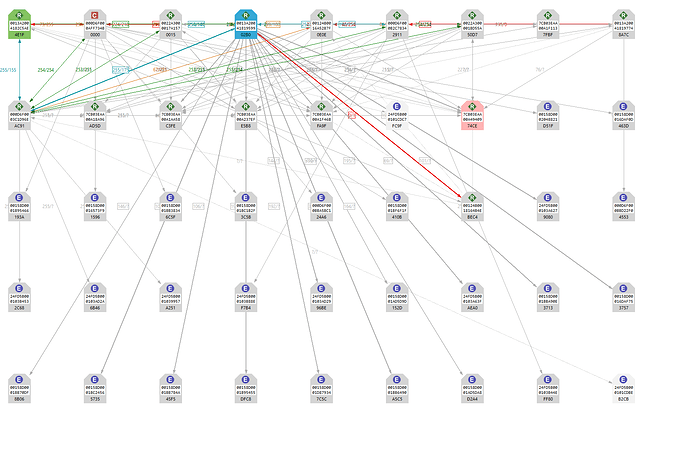 or a table like this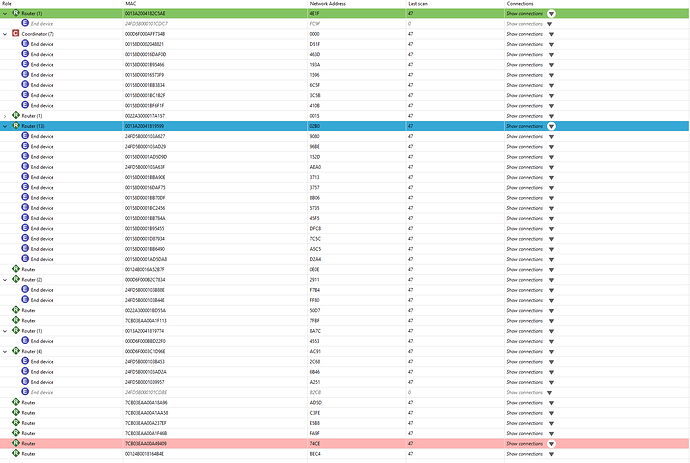 Xbee2 manual
Xbee3 manual
XCTU manual
micropython programming guide
surface mount (SMT) type
through hole (TH MT) type
Xbee usb THT vs SMT programmer