Driver is a large scale rewrite of the original driver and brings added flexibility in the gathering of ~60 attributes related to general operation of the hub. Driver allows the assignment of these attributes to one of 4 user selectable polling queues and intervals in an effort to allow the impact of the data polling to be minimized (I average around 0.12% of total or less), and the generation of an html attribute for display on a dashboard (template is a text file that may be edited to allow customization of the content).
Minimum HE version for this driver is 2.2.8.141.
Hovering over the preference description for those that are assigning attributes to a queue will display the attributes affected by the selection
Driver also has commands available to Reboot or Shutdown the hub.
Now available through HPM or via https://raw.githubusercontent.com/thebearmay/hubitat/main/hubInfoV3.groovy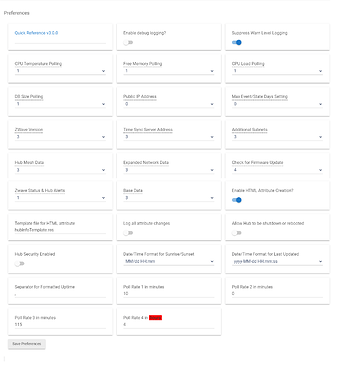 For those migrating from an earlier version of the driver, after changing to this driver and saving, hit Initialize, go down into the Preferences and select the poll queue (1-4, 0 is do not report) for each set of attributes you wish to have reported on, and then enter the polling interval for each queue (note that the polling interval for queue 4 is in hours). Hit Save, and then Refresh.
Some minor differences from v2:
hubVersion (use firmwareVersionString instead), nextPoll, data, and zwaveData are no longer reported
timeZone is now a JSON string
hubUpdateStatus now only reports Current or Update Available
Thoughts on CPU Load
Not sure where HE has their warning threshold at, but a few general thoughts:
It's not a single occurance that is an issue, it's a repeated or long running high load that you need to be concerned about (believe this is what drives HE's indicator)
HE has 4 cores, so a load of 4 is an indicator that the hub is fully scheduled (running processes + waits); fully scheduled does not equal 100% busy
Understand your pattern - everyone's app/driver mix is different, so determine your normal/good pattern and watch for long running deviation
If everything is running without issue, is it really a problem if the load spikes a few times; i.e. if nothing is broke…..
The load reported is an average over the last 5 minutes, refreshing the stats every 1 to 30 seconds isn't going to change the number in a positive way, give it a minute or 2 at least (the sweet spot seems to be in the 5-10 minute range for most)
NOTE FOR NEW USERS: After installing the code into the Drivers Code section via HPM (recommended) or the import method, go to the Devices tab and: Add Device -> Virtual -> add device name and select "Hub Information Driver v3" under Type and save.* (The driver will be in the User Devices section of the drop down. This is after all of the built-in drivers.)