UPDATED 4.0: added WU mappings and some forecast data for next day.
UPDATED 3.5: added temperature, pressure and humidity capabilities.
UPDATED 3.0: updated with code contribution from @jebbett to use some cool weather icons.
UPDATED 2.5: added image icon directly for weather condition for use on dashboard.
UPDATED 2: more granular lux calculation based on time of day and weather condition code.
UPDATED: from weather underground to apixu weather aboveground.
here is the new weather driver for those of us without a pws but have use for weather data in one or more locations.
you will need your own api key from apixu.com.
apixu updates their data every hour ... at least that seems to be the case for the free version ... so the polling frequency is defaulted to 30 minutes in settings.
since a key reason for doing this was supporting illuminance data for those of us with no external lux sensor the illuminance data is calculated and published every 5 minutes independent of the polling interval.
the seconds indicator for the local_time attribute blinks at ~2 second interval. works well when using this to display time on the dashboard for non-local locations.
there is an attribute called illuminated which is the illuminance value properly formatted for display on dashboard.
here is the clock seconds indicator blinking every ~2 seconds:
here are the attributes that are published and usable on the dashboard: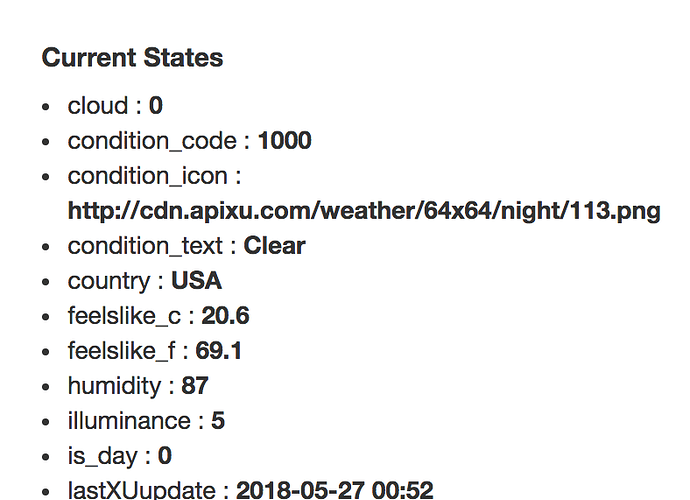 if you need any of the apixu returned attributes thats not published today ... just ping me and i will update the driver.
here is a dashboard i use with some of the attributes: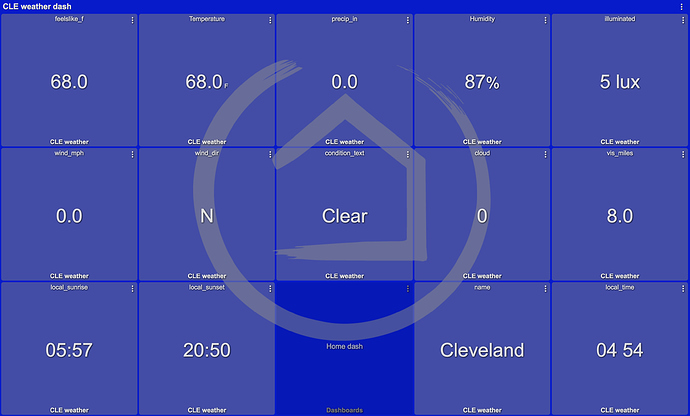 and here is the code:
need a way to do notifications based on attributes from this driver? try WATO:
if you would like to donate to support this work ... donate here.
i use this driver with rooms manager and rooms occupancy to turn on and off lights etc when the outside lux is at a certain values. if you havent tried rooms manager do consider giving it a try. it will change how you automate your house. more details here: