Working on building these to share, to work in conjunction with the InfluxDB Logger app.
InfluxDB2 (Flux) Required by default, some are ported to work on 1.x (InfluxQL).
Data Source for Flux must be setup in Grafana using Query Language: Flux
Easy drop down menus at the top to configure for your setup.
Support for alternate device name Tags if you are not using InfluxDB Logger.
Supports multiple hubs being fed to same bucket.
Download info at bottom of post
How to import a dashboard: Manage dashboards | Grafana documentation
---
Hub Info Dashboard:
Designed to work with metrics from Hub Info Driver v3
Recommended to enable "Include Hub Name" on InfluxDB Logger
Can group by hub name or device name.

Requires metrics from Hub Info Driver v3: cpu15Min, cpu5Min, cpuPct, dbSize, firmwareVersionString, freeMemory (units in KB), temperature, uptime
If you want to use freeMemory units of MB in the Info Driver you can edit the two memory charts and change the unit to Data / megabytes to fix them.
Top Section is Guages, I have this setup to duplicate with multiple hubs automatically, so the example shows two. If you only have one hub this row will only show once.
Historical charts below, showing last 24hr but can be set to any range you want. I have color coded thresholds setup for the dashed lines but using the classic chart colors to support multiple hubs. For a single hub you can change the color scheme to match the thresholds if you want.
---
Sensors Dashboard:
First section is at a glance where is everything at
Then you have the open/close type sensors history info (presence, motion and contact)
Last is the historical charts, if you want to see trending over time.

Requires (from applicable devices): temperature, humidity, battery, motion, presence, contact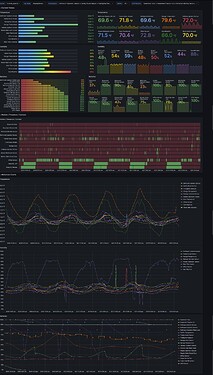 ---
HVAC Dashboard
Thanks for @mavrrick58 for sharing his original design

Requires: thermostatOperatingState, coolingSetpoint, heatingSetpoint, temperature (from thermostat and/or temp sensors)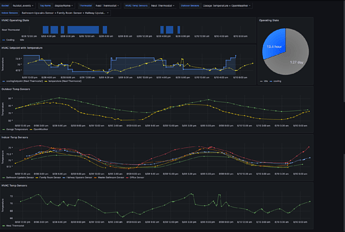 ---
Download Link for all published Dashboards:
~ Dropbox - hubitat-dashboards - Simplify your life
FLUX --> Requires InfluxDB2 / Flux source
QL --> Requires legacy InfluxDB v1 / InfluxQL source