I'm on a quest to figure out what wrong with my Z-Wave mesh and ended up finding some dead nodes and updating some old device firmware before going full Zniffer.
So... some quick notes below on how to find dead z-wave devices and updating device firmware without removing them from Hubitat. Just jotting down my steps while waiting for my device firmware to update since other people may be interested.
The steps below allow you to remove devices that are part of the Z-Wave mesh but not visible to HE. The last part shows how to update firmware without removing devices from HE.
WARNING: This is low level surgery outside the bounds of the Hubitat Hub so only do this if you are fine with losing your whole Z-Wave mesh and starting over from scratch.
Tools:
First I was interested if there were some dead/phantom devices that may be interfering with my mesh. This has been discussed in other threads but here is what I did:
Insert USB Stick into Windows machine
If it doesn't show up as UZB in device manager, select UZB driver from:
...\ZWavePCController_v5_39\Bin\ZW050x_USB_VCP_PC_Driver

Install PC Controller from:
...\ZWavePCController_v5_39\Bin\ZWavePCController\ZWaveControllerSetup.msi
PC: Launch PC controller from start menu
PC: Click the Settings button top-right and select the UZB Com port

PC: Click Network Management
PC: Click Reset

HE: Open up a separate Hubitat log page/tab to see progress
HE: Open up the Hubitat Device Discovery page and start Z-Wave device discovery
PC: Click Select Learn Mode

PC: Select Learn Mode: NWI Button
)
Watch HE and PC start communicating and give it time to transfer over information on all the Z-Wave devices. It took a couple minutes for my 70ish devices
PC: You should now see all your Z-Wave devices on the left.
HE: Open up the Z-Wave details and sort by Node (default)
PC: Confirm secondary control by selecting a node switch that you know by looking at the HE list, and turn it on and off by selecting it and clicking the Basic Set On/Off button
Compare the lists and see if there are some missing entries in HE.
a. I had an old test controller and two old Aeotec sirens I had played with last month that showed up in PC but not in the HE list.
b. I'm assuming this means the Z-Wave controller in HE knows about these devices but they have no entries in the HE database? Source of trouble anyway.
PC: Select mismatched node
PC: Click Is Failed
PC: Wait and see the device turn red if it's indeed missing/failed
PC: Click Remove Failed
PC: (Repeat for any other mismatched nodes)
PC: For fun, head over to the Topology Map View and refresh to see which device can communicate with another.
PC: Close PC Controller
Then why not update some firmware without removing them from HE? First confirm if you have any devices that can be upgraded at:
http://help.homeseer.com/help/Z-Flash/static/#.firmware_included_with_z_flash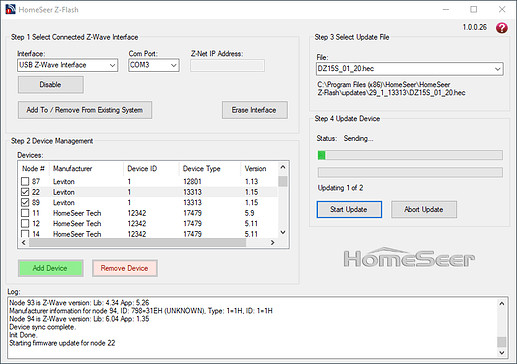 ZF: Keep the USB Z-Wave stick in
ZF: Open the Z-Flash tool. It will use the stick as a valid secondary controller so you don't have to remove devices from HE to update their firmware.
ZF: (Step 1)Select USB Z-Wave Interface and the right COM port, and enable
ZF: Wait for the tool to query all the devices
ZF: (Step 2) Select the device(s) want to update
ZF: (Step 3) Click the File: menu to select an available firmware
a. If it just says select file there is none built-in but you could ask for an updated file from the manufacturer. Most of them only allow updating by official controllers so don't get your hopes up... but HE could do this in the future...
Updating about 9 switches and bulbs took about as long as it took to write this so quite a while.
Cheers,
Mattias