As updates are posted, changelog can be found here.
If you use an android phone and utilize Tasker at all, you may want to play with the Join app. It's tasker integration opens up a realm of possibilities. Thanks to a nudge from @cwwilson08 I gave Join another shot and now I'm hooked. As a result I have expanded my Join API Driver (based on the work @ogiewon and I did with the original Pushover Driver) to include many more options from the API. Below are just a few of the options available.
Device Notification:
Custom icon for the status bar.
Custom notification sounds.
Ability to send SMS text messages as well as messages directly to the Join app.*
Send an image to display in the body of the notification.
If enabled, open any app on your phone by app name or app package name.
If configured, can display actionable links in the notification (actions include but not limited to: run a Tasker task, open a url,send files, send TTS, Send Phone Location, Ring Phone)
All of the above can also be displayed as actionable links in the notification itself.
Speak (TTS):
Using the Speak() command, you can send TTS messages to any of your integrated android devices or computers.
NodeRed:
NodeRed integration opens up that DEEP rabbit hole as well. Flows can be triggered by Join events and can also trigger Join actions.
This and MUCH more can be configured depending on the options you chose. There are too many possibilities to list (essentially any Tasker item can be initialized through HE) but for details on the api please see here.
I have not incorporated all of the API functions, but included all the components I felt were applicable for use with Hubitat.
*SMS messages will be sent TO the number chosen in the "Phone #" preference and will come FROM the phone selected in the "Device" preference.
The API tools allow you to test most configurations beforehand. If it didn't work using the API tools linked above, it won't work from Hubitat. Please test using the tool before requesting changes in this thread.
Driver Code:
https://github.com/stephack/Hubitat/blob/master/drivers/Join%20API%20Driver/Join%20API%20Driver.groovy
---
---
Actions can be entered in to the Actions input (each separated by a comma), but can also be configured inline with the message.
Inline Customization:
You can dynamically change or set preferences using the structure below:
messageTextHere[A]action1,action2,action3...[D]device1,device2,device3[T]title[C]category[S]phone#
All inline settings will override the pre-configured setting in the driver. They can be listed in any order as long as the messageText is first.
---
---
A few of my NodeRed and Hubitat notifications: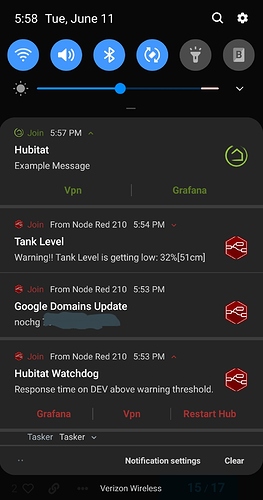 The actions at the bottom (Vpn, Grafana, etc) open weblinks and execute various Tasker tasks related to that notification.
A quick guide to settings up actionable notification items that run Tasker tasks can be found here.
---
---
Status bar with notifications from 2 sources, Hubitat and NodeRed (easily distinguishable):