This is a new integration to enable access to all Govee API enabled devices.
First I want to thank @Obi2000 for initially creating the driver some time back that enabled Immersion LED strips. That driver is the basis for the driver used with this integration, but has been heavily modified to work with the integration app.
What are the improvements over the existing driver? Well this integration takes what Obi2000 did a while back and just takes it another level. He created a great driver, but the Govee api has continued to evolve. This integration is intended to enable all of the new features that have been added to the Gove API and streamline the deployment of all of those devices into HE. Along with the existing devices, the new Govee API 2.0 enabled a new class of devices from Govee. These new devices include: Humidifiers, Dehumidifiers, space Heaters, Fans, and potentially more. As Govee add devices to their API they will immediately be available in this integration.
How do you get this software integration
This integration requires 3 things.
You can also use HPM. Simply go to install the app and search for govee. Then install the item that shows up.
You also need to use the Govee Home app on your phone and request a Govee API Key from the help section of the app.
Once you have your Govee API Key and the 3 components above loaded on your hub simply go through the process to install the Govee Integration app. On the first screen there will be a place for you to load your API key.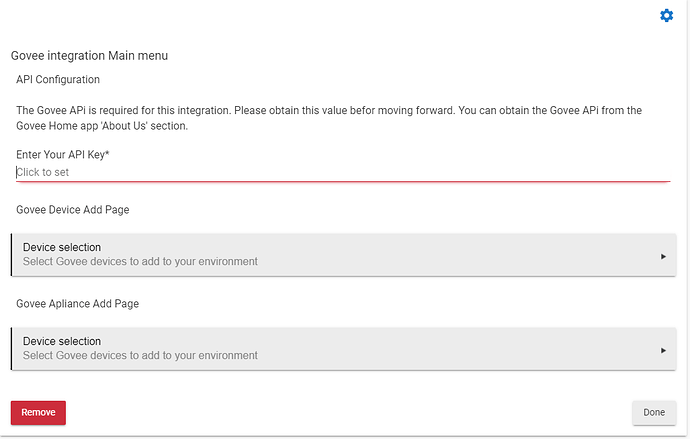 Once that is populated click on the buttons for Device selection under "Govee Device Add Page" to added Lighs, Switches, or Plugs. Select your devices to add and click on done to go back to the main setup page.

At this point click on the other device selection if you have any appliances like humidifiers, dehumidifiers, heaters, or fans and repeat the process above for them. Again click on the "Done" button when all you want integrated are selected.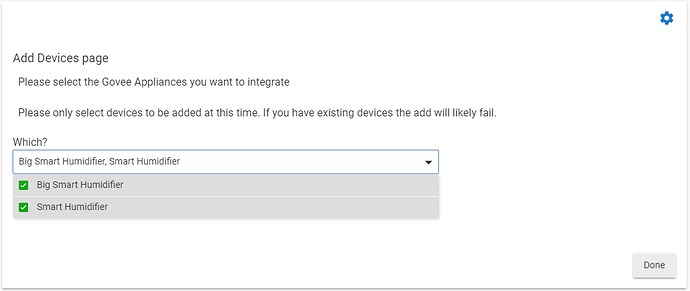 Back on the main page click on " Done" one more time and you should end up with all of the devices available at this time.
Enjoy the integration.
Things to know:
A new setting was added to Light,Switch, plug drivers to allow for polling if a device supports status. It defaults to ever 5 min but you can make that shorter if you like.
Appliances are not retrievable at all. We can only send commands. This is a API limitation.
I added a flag for debugging. It may not do much right now, in some cases but it is there and will be enhanced if issues are reported when i do research.
Rate limits are now being displayed in the various devices as they are consumed. If you ever find you are unable to get the driver to work then check that you have not hit that limit by looking at the states on your devices.
One part of this integration that is very ruff, is that i don't have a good method figured out in the main app to manage devices that are already installed vs new devices. When you add a new device you will want to unselect devices that are already integrated in HE. It won't remove them, it just won't attempt to add them again causing a failure for all adds.
I am still working on streamlining the options for the Govee Appliances. Current Gears option refers to either Fan Speed, or mist spead based on the device. Mode refers to mode you would use from your Gove Home app. Both the Gears Options and Mode Options values are shown in the data section for the device if you scroll down.
Last thing is I have limited govee appliances. If you see something not working please feel free to hit me up with the details from the data section at the bottom of the driver. Hopefully i can add something in in short order.