You have pinned the hubitat forums to your browser tabs

Mine has been there for close to a year
I guess I'm a lost cause.
..two open tabs devoted to HE forums at all times...


not sure I wanna know where that puts me.


I am NOT addicted. I can quit any day. Really. Believe me. I have already quit twice today. I am not addicted.. (Do I need to join HAA (Hubitat Addicts Anon)? What is our prayer and what is our 12-step program?)
When the wife yells" the light didn't come in in the stairwell, I'm going to touch the switch" and I come running, yelling, ""don't touch it I have to find out what went wrong"
And she says, "if you weren't spending hours on that forum maybe the lights would work better"
...you have more stuff in your Home Automation Graveyard drawer than most folks have in their entire house.
You know what my New Year's resolution was? No more home automation gear this year.
It's been about 6 months, and I have purchased:
one NUC 8
one Odroid N2
3 Caseta switches
2 Caseta dimmers
One Caseta plug-in dimmer
Several Picos
15 Iris v3 motion sensors and 30 Iris v3 contact sensors
10 Aqara motion sensors
4 Sengled RGBW A19 bulbs
one Apple TV
4 zigbee environment sensors
2 SmartThings presence sensors
3 Zooz Zen22 dimmers
3 Zooz Zen30 dimmer/relay double switch
And it wouldn't surprise me if I've forgotten a few things ......
HI! My name is April, and I'm a Hubitatter. It's been one hour since I've tinkered with anything smart. My husband thinks I have a problem, but I don't agree.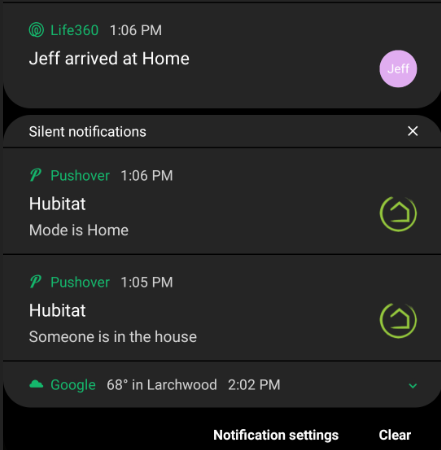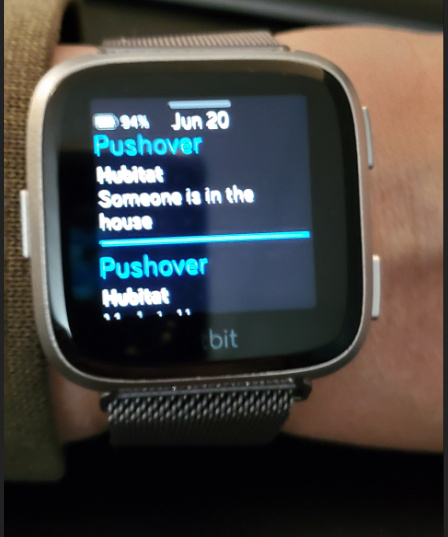 I do NOT have a problem.
Until that someone in the house isn't you of your family and you spot a man walking round buck naked doing a windmill
JEFF!!? Is that YOU?!
PUT YOUR PANTS ON! MY GOD MAN!

Now I have to find out what Pushover is...
My wife says I'm a pushover.
Notification app. 4 bucks for a lifetime is unlimited notifications
If I hadn't been buying and selling houses, I'm sure I would have a similarly lengthy list…, but I still have six months to catch up.
I think most of us have given in to the "dark side".
I don't have any idea what your husband is thinking. I don't see a problem.
apparently with hubitat iteration? or node-red?
Why pushover and not Hubitat messaging feature?
Just pulled this from their site: Each user can send up to 7,500 messages per month for free .
Not quite unlimited, but I sure don't want even close to that many messages alerting me.
Pushover has many more features and maintains a history within the Pushover Mobile App that you can refer to once a notification has been dismissed. It is also very easy to send Pushover messages from Node-Red, as well as Hubitat. I also like that Pushover allows for Priority/Emergency messages which can be configured to break through a phone in silent mode. It also has been extremely reliable for me and my wife.