Auto Off
A Hubitat Parent/Child app that turns off your devices after they have been on some time. This App is a "clone and update" of MForander's excellent Auto Off app.
Details
The app allows you to create child apps to individually select switches you want to be turned off automatically.
Import App Link
There are two notable differences between this pair of Apps and the original App from MForander: It's a parent/Child version, where each monitored switch (or dimmer) is an individual App, visually within one container (parent). It's a visual ordering feature. The Parent app only runs during the Child creation process and each Child App is functionally the same as the original App, except for: The second notable difference is that the code uses runIn() to schedule the Off event not polling.
This App is available through HPM.
Images
Before: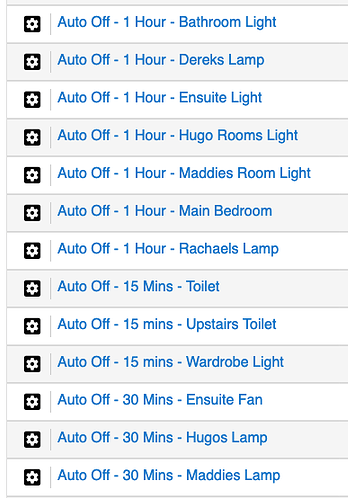 After:

The green status words are hints about the state of that specific App. If the Master switch is On, signifying the app is paused, there will be a red [-] . Obviously "Idle" means the App is waiting for the switch to turn On (or off, if inverted). Equally obvious, I think, is the "Active until ..."status, showing the time that the switch will be turned off (or on, if inverted.)