Yet another laundry app! I've actually had a version of this for quite some time now (ST days), and none of the others I've come across did exactly what I needed.
Features:
Subscribes to a power monitoring device for the washer and dryer
Creates a child device for the washer and dryer
Child device has a status attribute: idle, running, finished
Setting for min threshold (in watts) to trigger running
Setting for min time below threshold to trigger finished
Child device is a momentary switch that when finished is "on" (good for use in a dashboard to highlight active state, tapping on dashboard tile will reset status to idle)
Will send you a notification when finished, with repeat notifications if desired (I often don't attend to the laundry after the first notification)
Can assign a button to reset status to any finished status to idle (I have a Samsung button mounted near the W/D to quickly reset the status)
I hope that is useful for someone!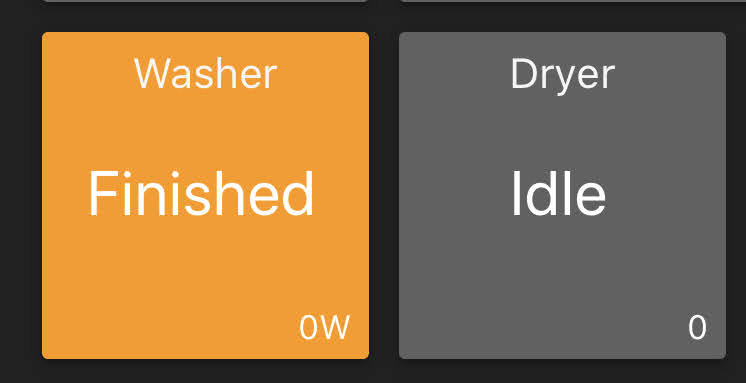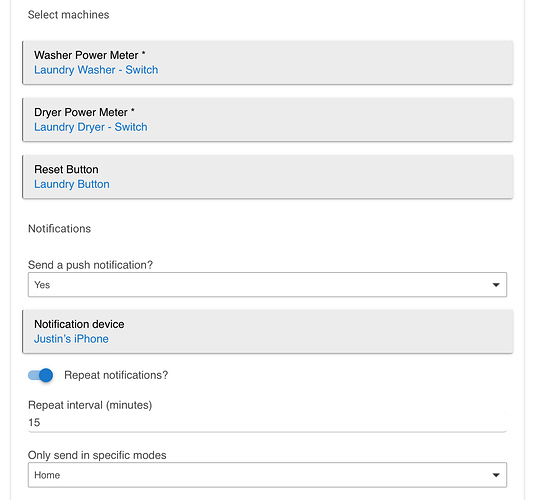 v1.0.0
Initial release
2019-12-30
v1.0.1
Made washer, dryer, and reset button optional
2020-01-07
v1.0.2
Allow multiple notification devices
2020-02-15
v1.0.3
Added support for contact sensors, TTS, time-based auto reset,
device labels, and time on threshold
2021-01-17
v1.0.5
Bug fix
2021-01-18
v1.0.6
Support for overriding machine labels, removed min time on logic
2021-01-21
v1.0.7
Added min time on support, and fixed tts modes bug
2021-03-21