I am pretty disappointed in both Hubitat and Zooz on this one as it seems like there are problems with both. Up until now things have been pretty smooth, but something so simple as adding a RGBW dimmer to turn on white in the day and dim/colored at night has taken hours of my time.
First, I see that the supported Zen31 pairs and has two child devices - one for white and one for color. I can go to the child devices and turn them on and off and they work great. I do see a problem with the parent device - when I look at the State Variables I see whiteEnabled : false, and if I hit on in the parent device screen it does not turn on white, but the last dim custom color. If I set the Level to 99 in this parent screen it still retains the dim Evening setting. Here are the devices: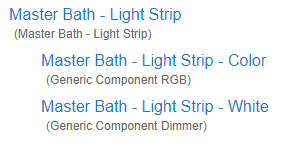 Second, here's my Motion Lighting Apps rule:

THE MAIN PROBLEM: When I walk into the room during the day, the dim evening color comes up, not the white that is supposed to. By looking at the logs you can see it knows it's daytime and that it is setting the level to 99, but you can also see by the logs that it's actually turning on the RGB, not the white: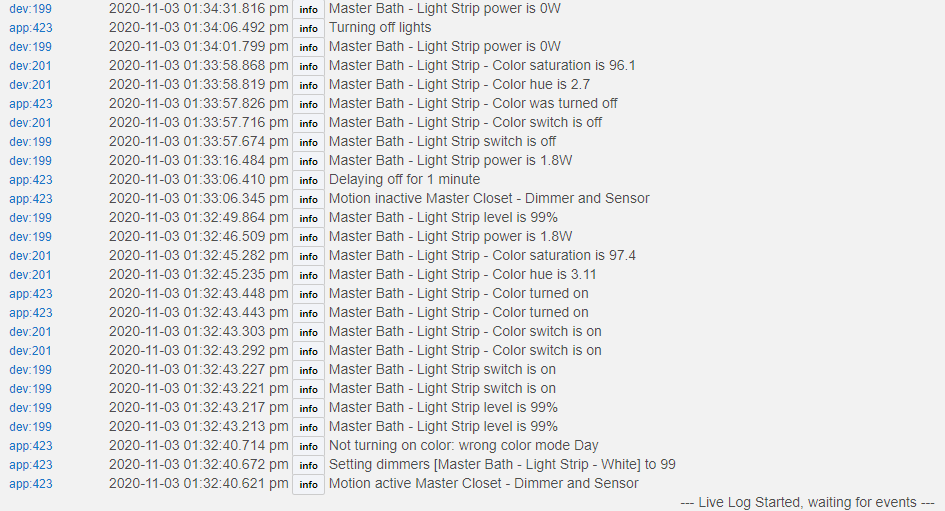 I believe what is happening is even though I selected the child device Master Bath - Light Strip - White to turn on, the app is actually using the On button on the parent device (Master Bath - Light Strip)
For troubleshooting I have:
Tried the default driver
The user driver recommended by Zooz which didn't work at all (can't even get things to turn on and off): https://www.support.getzooz.com/kb/article/387-how-to-access-advanced-settings-for-zen31-rgbw-dimmer-on-hubitat/ hubitat/zen31-led-controller.groovy at master · djdizzyd/hubitat · GitHub
Another user driver mentioned a few months ago, but it spews errors right away: Zooz RGBW controller driver issue (with simple fix) Hubitat/fibaro-rgbw-controller-advanced.groovy at master · erocm123/Hubitat · GitHub
Created a temporary simple automation rule to turn on the white - that works just fine which seems to tell me that this is a Motion Lighting App problem.
Here are some Hubitat bugs I discovered (I am on 2.2.3.148):
When adding a brand new Motion Lighting App it somehow configured my GE Enbrighten switch to not turn on it's own light (occupancy mode). I couldn't just click occupancy mode to get it to work again, I had to reset all configurations to make it work as normal (light goes on by itself automatically when sensing motion).
My rule wasn't turning the light strip on at first. In the logs I would see not turning on, already on until I rebooted the hub.
Simple Automation rules is lacking the Custom color in the drop down for the RGBW Dimmer that are present in Motion Lighting Apps and RM4.0. This is pretty infuriating since it prevents me from using this App as a workaround unless I want to use a preset color.