Guys,
Here is a little app I've been working on for a short while:
'Modes Plus' (Parent/child app)
This app uses various 'triggers' to control location modes.
Available triggers:
Button
Illuminance
Presence - Arrival
Presence - Departure
Sunrise (with offset)
Sunset (with offset)
Switch
Time
OK.. Why is this any better than the in-built 'Mode Manger'?
Well a couple of things..
For a start.. Trigger by 'switch' is missing from Mode Manager. (So it can't be used directly with Alexa)
Secondly.. Restrictions.
You can restrict the action by:
Time (Mode can only change between these times)
Day (only change on these days)
Presence (x2 – Either one at home, both at home or nobody home)
Switch (only allow change when this switch is on)
Current Mode (don't change if not in one of these current modes)
I have also introduced some new updater code with this app (this will eventually make it into all my apps)
It looks rather strange when you first create a new child:
Lots of 'null' values – Don't worry that will change when you save the child
Once saved, if you reopen it you will see something like this…
You'll notice the 'Check for updates' button?
You can hit this button at any time and it will connect to a web based server and check for an updated version of the app.
If there is none then you should see the button change to this: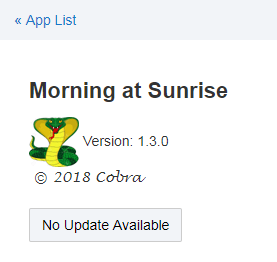 When there is an update available:
Then you might see something like this:

Clicking on the 'Find Updated Files' link will take you to my GitHub account in the relevant app folder where you can find the updated code.
Update Notification
I have also added an option to receive a 'PushOver' message (child only) when there is a new update released.
You can configure it on the 'Restrictions' page
All my apps check for updates every Friday at 9:00am, so if you enable this feature you can expect a pushover message at 9:00am on Friday (local time) - But only if there is an update available!
NOTE: This should only be enabled on ONE child (or you will receive multiple messages – One for each child)
I have to thank Roy @Royski for all his help with testing and debugging this app.
Without him half of this would not work correctly!
You can find the Parent & Child here:
https://github.com/CobraVmax/Hubitat/tree/master/Apps/Modes%20Plus
Changes:
V1.5.0 - Added 'Pause' switch to temporarily disable the app
V1.4.0 - Added 'illuminance' trigger
V1.3.0 - Initial Release to the community
V1.2.0 - Revised update checking, with the option for a 'Pushover' message if there is an update
V1.1.1 - Debug 'Between' time checker
V1.1.0 - Added restrictions page and handlers
V1.0.0 - POC
As always, I'm happy to hear if there are any bugs etc
Have a play and let me know what you think.
Andy