Inspired by @Stephack's brilliant 'Virtual Container', I have created 'Cobra Apps'.
I have created & released quite a collection of 'Parent/Child' apps over the last few months and decided (after a little poll on this forum) to create a way of 'grouping' my apps into one container.
That way they are all together, which, I believe, makes them easier to manage.
Things to note:
This is just a container.. It has no other apps in it by default.
To install & control other apps you need to install the relevant apps code.
If you ever decide to remove the Cobra Apps container, you will uninstall ALL parent/child apps it controls
Not all my apps are available for install yet.. more to follow
The only real bummer… If you are currently using any of my apps included here then you will need to recreate the child apps in this new container (However you can keep the old ones running until they are recreated so you can, at least, copy the settings etc.
As of this initial release, the following apps are available to install.
"Temperature Controlled Switch", (Not released before now)
Further apps now available..
(Mostly obvious what they do..)
Contact Controlled Lights and Switches
Daily Switch Event
Daily Window/Blind Event
Flasher (Flash a set of lights at a certain time - Other triggers to follow)
Mode Switch (Control switches/Lights when location changes to a configured mode)
More 'Cobra Apps' will be added as I get around to them
**You can find the code for 'Cobra Apps'. here.. **
https://github.com/CobraVmax/Hubitat/tree/master/Apps/01%20-%20INSTALL%20ME%20FIRST/Cobra%20Apps%20Container
Ok, Install the code for Cobra Apps onto your hub in the usual way…
Select 'Apps Code' from the main Hubitat menu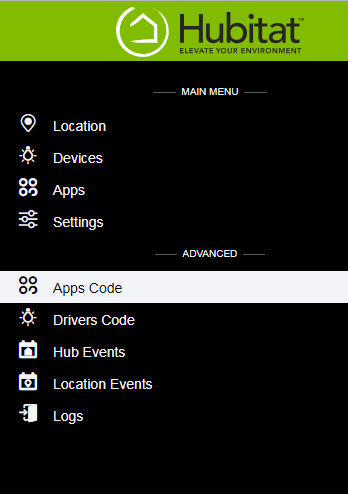 Then, on the right-hand side, click the 'New App' button


Paste the code into the main window then click 'Save'



Once the app has saved, go to your 'Apps' page from the main Hubitat menu

Once the code is installed, you need to 'Load' cobra Apps
On your Apps page click the 'Load New App' button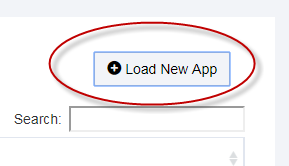 Under 'User Apps' you should find Cobra Apps



You should now see this page..



Hit the 'Done' button to install.
You should now see Cobra Apps in your app list


It's quite possible that when you first open Cobra Apps you are presented with this again



Just click 'Done' once again to complete the install then reopen from your apps page
Once correctly installed/loaded you will see the following: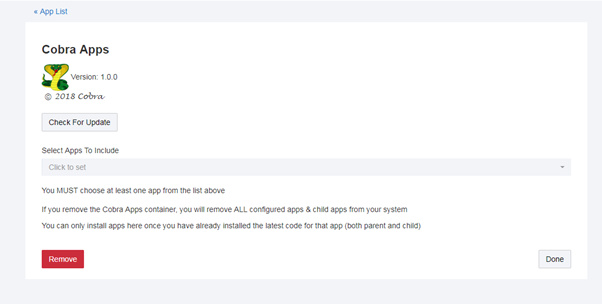 From 'Select Apps to Include' select the app you want to install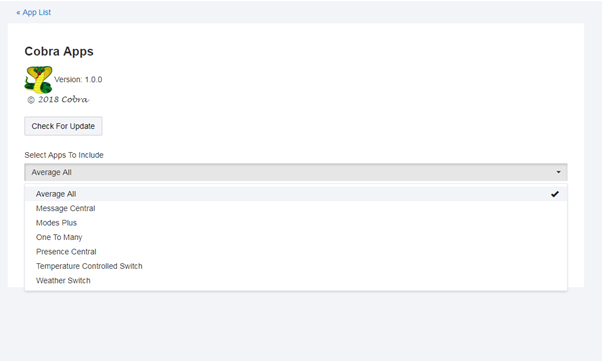 You should see a tick next to the app you have selected.
Now.. click somewhere else on the page..
By doing this, the page will be refreshed and you should see something like this..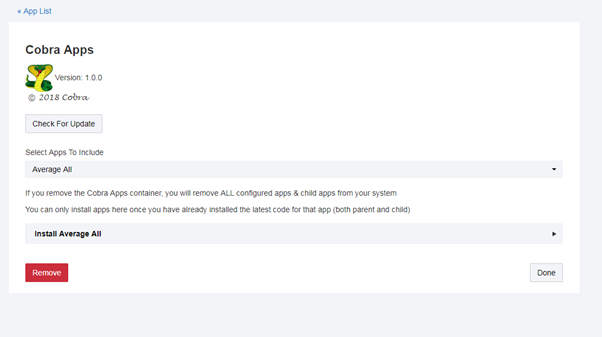 Pretty obvious what to do next.. click the 'Install…' link.
This is what you might see..



Hit 'Done' to install the app (in this case 'Average All')
You should now be returned to your Apps List
This is what you might see…



As you can see from this picture, I have installed Average All and Message Central on this hub
Clicking on the 'Cobra Apps' link will reopen the app and you should then see something like this…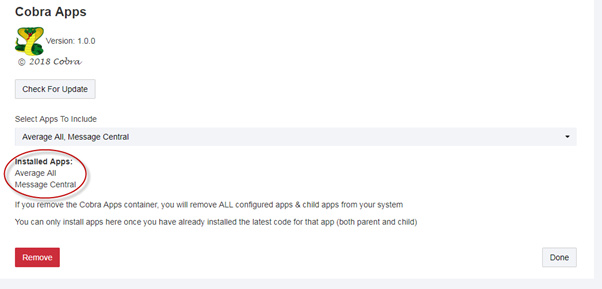 You will note that the two apps are installed and still listed in the 'Select Apps To Include' list
Now you can install further apps or click 'Done' to return to your app list.



When back in your Apps List, if you click the link to one of the apps you have installed you should see something like this…



Here is where you can add the automation child apps to run your system..
Before you can start using the apps you need to copy the code for the relevant app and install it on your hub.
JUST THE CODE!
You won't need to 'Load' the apps as this is done from within Cobra Apps
You can find all my apps here:
https://github.com/CobraVmax/Hubitat/tree/master/Apps
One final thing…
For current users of my apps..
If you have used any of these apps and have them installed on your hub
YOU MUST UPDATE THE PARENT APPS TO BE ABLE TO USE THE COBRA APPS CONTAINER
(Child apps remain the same unless a normal update is available)
If you want to continue using & updating any of my current app WITHOUT using the Cobra Apps container..
I have made it easy for you. Just edit the latest 'Parent' code and look around line 50 or so.
You need to comment out (put // in front of) the following line..
parent: Cobra:Cobra Apps
BTW…
I have done quite a few updates on various apps.
Check out the relevant app threads for details.
---
Updated 01/11/2018
Version: 1.5.0
I have added a couple more apps to Cobra Apps (see updated list above)
As some of these have not been previously released there are no 'release threads' for them but I'm pretty sure it will be obvious how to use then, should you wish.
---
One thing to note...
A lot of my apps are written for me.. to address MY needs for My automations.
the only reason they are included in Cobra Apps is so that I can keep my own apps list cleaner..
I don't expect some of them to be useful to anyone else

Please just ignore any you don't want to use.
Andy