I've been looking for a Zigbee Key Fob to control the HSM in Hubitat. Found one on AliExpress by Heiman.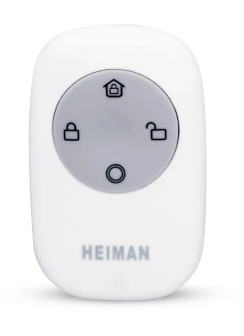 I've put together a driver for it (reusing bits of code from other community drivers): hubitat/heiman-zigbee-key-fob.groovy at master · muxa/hubitat · GitHub
This key fob has 4 buttons. Button numbers are as follows:
1 - Arm Away (left)
2 - Disarm (right)
3 - Arm Home (top)
4 - Panic (bottom)
I have also discovered that this device supports Zigbee identify cluster (0x0003). This means you can send identify command to it and it will flash a led for 5 seconds. Note that this command only works during a few seconds after pressing any button (i.e. when the device is awake). I've used this led as feedback that my HSM is armed/disarmed.
Let me know if you encounter any issues with the driver.
I've been using this device for a week now and no issues were encountered so far.