GameTime
Follow, and automate based on, the schedules of your favorite professional and college sports teams.
Display customizable dashboard tile(s) showing the next gametime for your favorite team(s). For example, I display this on the dashboard mounted next to our most-used door. Display one dashboard tile per team, or display a single tile that displays whatever game is next from among your favorite teams. Configurable to hide or show game result, team name, or team record/rank.


Automate based on whether it's a game day. Switch turns "on" on game day. Off otherwise. Configurable per team or collectively across all your favorite teams. For example, use in conjunction with Dynamic Image Switcher to change your dashboard background to your favorite team's logo when it's a gameday.

Automate based on whether it's a scheduled game time. For example, set lighting specific to your favorite sports team when that team's game is scheduled to start. Or, turn on the TV when the game is scheduled to start.

Send notifications to your devices and/or push a button when there's a configurable amount of time left until gametime (or at gametime)

Automate based on whether a game gets canceled, or delayed due to weather.

Automate based on if/when your favorite team is playing its rival opponent. For example, set up rule machine to send you a push notification about the big game.

Automate based on whether your team won or lost the game. For example, change a color bulb or a light switch's led strip to different colors depending on if they won or lost. Note: this feature deduces a win or loss based on changes to a team's record, so the feature will not display the won/loss status until after the first game since installing the app.

Display tile with your team's upcoming schedule (# games customizable)

Example Team-Specific Device State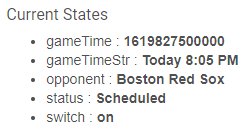 Supported Leagues
NFL
NBA
MLB
NHL
NCAA Men's Basketball
NCAA Men's Football
Requirements
Requires FREE API key per league obtainable from www.sportsdata.io. FREE API key allows 1000 API calls per month, which I've found is sufficient even for MLB which has a lot of games. Note this is termed a Free "Trial" but never expires.
Hubitat Package Manager (HPM) Install Instructions
Find GameTime in HPM under the tag Dashboards
Install GameTime
Add GameTime as an app
Manual Install Instructions
Install parent and child drivers
Install Gametime App as well as the Gametime Pro Instance child app and the Gametime College Instance child app
Enable OAuth for the Gametime Pro Instance child app and the Gametime College Instance child app
Add Gametime as an app
Post-Install Instructions
Within the Gametime app, add one child app instance per team. When you select your team and click "Done" in the child app, a child device is created for that team.
On the Devices page of Hubitat, devices for your teams are listed under the Gametime parent device. The GameTime parent device will display the tile for whatever game is next from among all of your selected teams, whereas the GameTime child devices are team-specific devices that will show only the tile for the associated team.
Non-Live This integration is intended to operate based on team schedules, so that you don't miss an opportunity to watch your favorite team and/or so that you can automatically set lighting scenes based on scheduled gametimes. The integration does not pull in live, up-to-date game stats (go watch the game on the TV, not your dashboard!). The integration does show the "current" time remaining in a game in progress, but sportsdata.io states that information is delayed by 10 minutes in the free API (maybe even a bit more than 10 minutes in practice). Although there is a paid API from sportsdata.io for live stats, it's not cost effective for individual use.
Potential Future Integration
There's potential for future expansion to Women's College Basketball, Soccer, Golf, Nascar, and more, if there's enough interest in the community.
Enjoy!