So I refactored the Keenect Code I have been using to simplify the code and the setup. I have removed a lot of the things I did not use, hence the Lite moniker. The code was reduced to about 25% of the Keenect I ported from ST. If you want to move to this and I removed a critical piece of functionality, let me know.
Kudos to @mike.maxwell who created the original app.
Parent: https://raw.githubusercontent.com/napalmcsr/Hubitat_Napalmcsr/master/Apps/KeenectLite/KeenectLiteMaster.src
Child:
https://raw.githubusercontent.com/napalmcsr/Hubitat_Napalmcsr/master/Apps/KeenectLite/KeenectLiteZone.src
Tile device:
https://raw.githubusercontent.com/napalmcsr/Hubitat_Napalmcsr/master/devices/KeenectDataTile.src
If wanted install virtual devices for each zone using the tile device for getting data to the dashboard.
Rough instructions can be found here:
https://github.com/napalmcsr/Hubitat_Napalmcsr/blob/master/Apps/KeenectLite/keenect%20Instructions.pdf
Install KeenectLiteMaster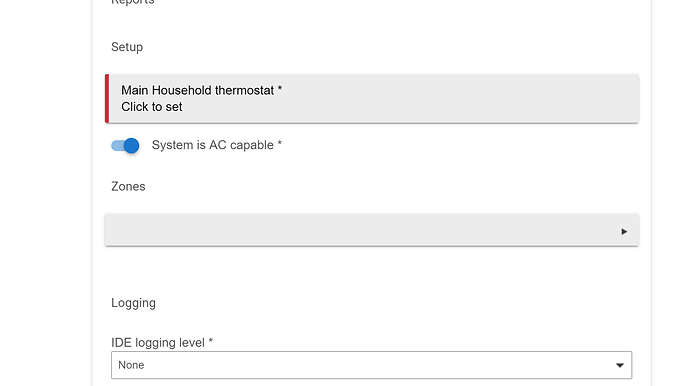 Add in your Main Household thermostat and select if it does AC. Change the logging level if you like.
Save.
Re open and click on the gray bar under zones.

I have a virtual thermostat to set the target temperature for each zone. You can use your main thermostat for the setpoint for each zone as well.
Vent and sensor and dashboard tile are self explanatory.
Minimum and Maximum vent opening put limits on how open a vent can or can't be.
Fan Mode is how open you want a vent in Fan Only mode of your main thermostat.
Installing a dashboard item: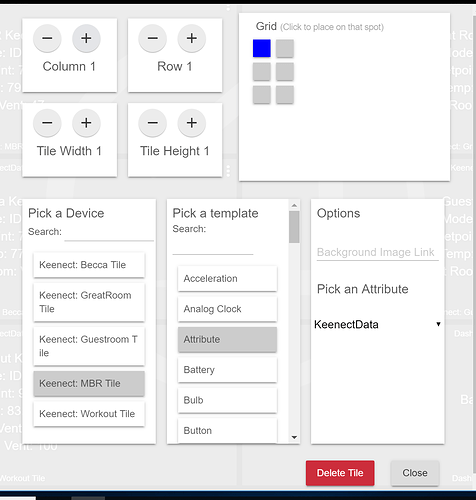 Select the tile device, attribute and then select KeenectData under the attribute.
---
Updated zone code to ver 1.0.1 to support different max and min opening for heating and cooling. You have to re-open and save/change the min/max vent openings.
Updated to ver 1.0.2 to support multiple vents in a zone. You have to re-open and re-select the vent(s) you want in a zone.
Updated main to 1.0.1 and zone to 1.0.4 to fix a GUI issue, and fix a case where the vent and app were out of sync.
Updated zone to 1.0.4 to add a pause to the zone and add vent control settings. the control settings change how close to the setpoint until the vent starts to close. Aggressive waits until .5 degrees, normal starts closing at 1 degree, and slow starts at 2 degrees.
Updated to 1.0.6 added local zone tstat control. If Main tstat is cooling, and local tstat is in heat, this will close the vent to min. ditto for heating and local in cooling. local tstat in off closes the vent
Updated child to 1.0.7. This is for when Fan Only is not being sent by thermostats. There is a switch for idle condition to be the same as fan only.
Updated child to 2.0.0. Added Dashboard tile support. Added Binary control.