I am monitoring and logging the hub's response time to a request for a list of devices. I know this is not a direct correlation to hub performance, but with no CPU usage data this is something, and it does usually correlate to observed performance issues (motion lights slow to turn on, Google home saying it can't reach Hubitat, etc).
Every time a platform update becomes available I am notified by hub response times exceeding my warning thresholds. Then that evening it usually fails to run my goodnight rules correctly. The next day I check and sure enough a platform update is available.
Attached is a log of response times. In this case the update was released on the 27th, it took awhile then the response times climbed up a lot. Last night (28th) my goodnight rules would not run, so I locked the doors and turned off lights manually (like it was the stone ages). I updated on the 29th at about 1600, and the system started running much better. This is the same behavior as when every platform update is released.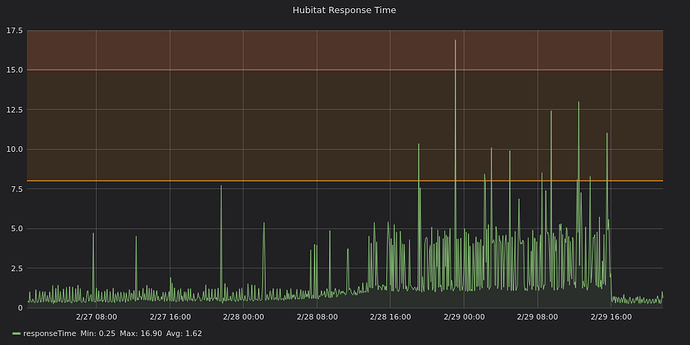 I would say this was reading into data too much, but like I said the response time corresponds with observed issues with the hub. This occurs every update, and was anecdotally observed before I started monitoring the response times. I don't think just the fact that an update is present should slow the hub.