Nightmare....I'm on the latest firmware and updated the Z Wave firmware while it was in beta.
Purchased a new device today (Fibaro Outlet). These are 500 series devices, so I know I need to use my Aeotec Z Wave USB Stick and Z Wave Controller to include it without security.
Plugged in Z Stick, fired up Z Wave Controller, checked the com port, selected PC Controller in the list, select Classic Learn Mode and started inclusion on the C7.
The pairing appears to complete on the Z Wave Controller software and populates all of the devices: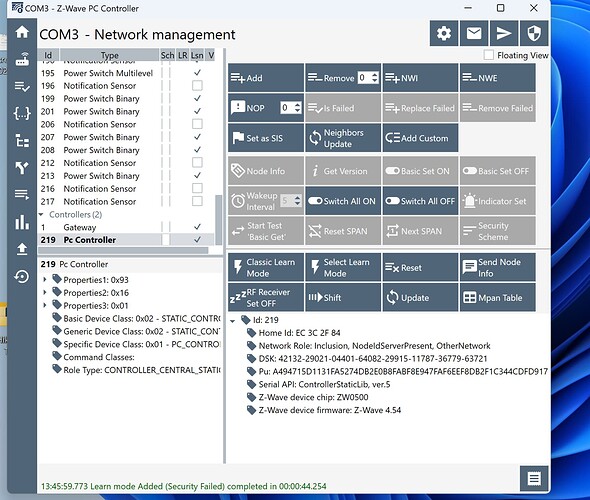 However on the HE side, the inclusion times out:

So I've nothing in devices list. However in Z Wave Details it is visible:

I've excluded it again once already in Z Wave Controller, so I can clear it from the Z Wave Details page. However if it won't pair successfully anymore, I can no longer include anything. I've gone through this process with the USB stick many times and never had an issue so I can only suspect it's the Z Wave Update. Any ideas anyone? Tagging @danabw (who's guide document I use)