Well good, I am sure he will have fun re-pairing all his devices
You could always just setup your parents/grandparents with Alexa shows so you an all video chat. That IT project should keep you busy. You can also setup your kids/grandkids incase you need IT help.

Methinks @dadarkgtprince was not thinking of things to save me time...
Ordered one of Sylvania strips so I could have something quick and cheap to demonstrate to my wife how we can use strip lighting in her new closet (she's getting a walk-in closet in an upcoming remodel). I've been talking w/her about built-in LED strip lighting. Should be interesting...
Thanks for the Walmart suggestion, saved me a few sheckels on shipping.
I did our pantry's with strip lighting and a contact sensor switch. Wife loves it and constantly opens and closes to see the light! lol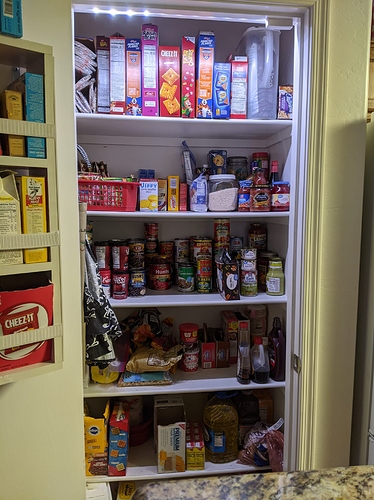 Sure, but those are off limits! lol
I thought in the C-7 it does
No - no radio info in backups until they release the Hub Protection Plan (or whatever the name is...
)
ahhh, there in lied my confusion. i knew C-7 had something with restoring radios, but i guess they're still working out the kinks on the hub protection service
I'm thinking it will come w/2.2.4 maybe...looking forward to it. I was disappointed when I found out that the backup on HE was only a partial backup. Backup was one of the key reasons I moved over from ST.
I suppose it will be released with 2.2.4 firmware
Do you have a power outlet in your pantry or did you do this battery powered somehow?
Time to convince a friend to automate and help them with their project.
Nothing more satisfying than helping a friend .........spend their money
Cheers
Genius...all the fun, none of the WAF issues, and not your money!
Albert Einstein, Warren Buffet, and you.
ya you can even chuckle as his wife bitches at him about the money, things not working and things annoying her.... Dryer is done honey, mail arrived
I did the same thing for my pantry. My wife didn't like the short delay so it had to go. I just got a dumb light switch and put it in the circuit. The switch is just a regular light switch that I mounted in the wall.
I used a ecolink contact switch so light stays on as long as door is opened
I don't bother automating lights that are only supposed to go on when I am standing right by where the switch would be, like cupboards. I just stick to living areas or bedrooms where I might be sitting or lying down at the time I want to adjust the lights. When I say automating, I include remote controlling.