Perhaps a radio reset would return meaning to your life?
Ah...clearly a serious case as well. I don't see much hope that you will recover, unfortunately, and you seem likely end up writing drivers for devices that might be invented someday...
Hmmm...the dark side of the Force is strong in this one.
This young padawan apologizes, master.
I must focus and find my inner "it's not done yet" zen.

I think I have an "urgent and important home improvement" feeling coming on. What if the earthquake hits and we don't have LED strips leading us to the exits like in an airplane!? This cannot be....
Can you point me to the one you're referring to? Looks like this one, I think: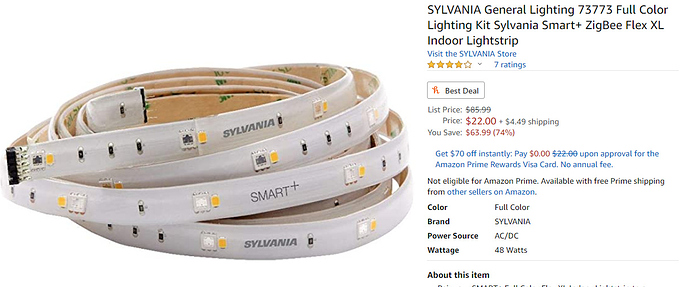 I hate to admit that I've bought 9 of these, but they work great and are 16 feet long. Sometimes they're cheaper on
Walmart.com
HAHA I have about that many as well, they just work!
here is another suggestion i just started using Maker APi and myhomecontrol and/or apicall to get control of light/garage door/lock from my garmin fenix 6
Get a cat. Then spend weeks troubleshooting all the stuff he unplugs behind heavy pieces of furniture. You won't be bored!
Yes...just to be sure that one is a Zigbee controller....they also make a z-wave controller model ZV-1008. If you get the z-wave controller @bcopeland has developed some drivers for it. Amazon is currently out of the Z-wave model. I ordered mine direct from RGBgenie. They have them in stock now.
Hmm I have a Garmin Forerunner 935 at the moment. Maybe.....
Looks like the ZV-1008 is no longer on Amazon, though it can be found on the RGBGenie site and eBay.
Yes....I just ordered a ZV-1008 direct from RGBGenie. It is being shipped now.
The kind of thoughtful, creative thinking that indicates a great mind at work.
Don't panic. There will soon be a new update on HE. A new version. You can install it and then see the problems it caused. You will ask "Do I roll back, or do I wait for the hot fix that inevitably follows in a day or 2. Or do I wait for the 2nd hot fix?".
HE Staff: only half kidding!

Except a hard reset resets the radios, which aren't restored by restoring the backup