Can you point me to the one you're referring to? Looks like this one, I think: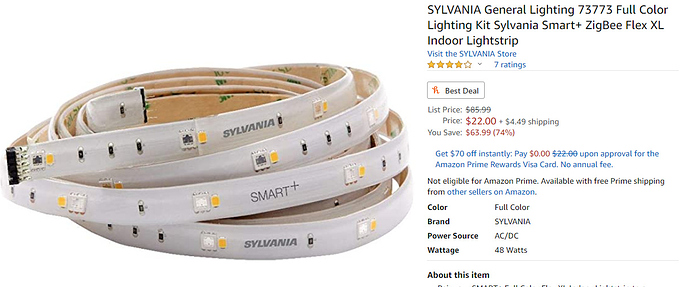 I hate to admit that I've bought 9 of these, but they work great and are 16 feet long. Sometimes they're cheaper on
Walmart.com
HAHA I have about that many as well, they just work!
here is another suggestion i just started using Maker APi and myhomecontrol and/or apicall to get control of light/garage door/lock from my garmin fenix 6
Get a cat. Then spend weeks troubleshooting all the stuff he unplugs behind heavy pieces of furniture. You won't be bored!
Yes...just to be sure that one is a Zigbee controller....they also make a z-wave controller model ZV-1008. If you get the z-wave controller @bcopeland has developed some drivers for it. Amazon is currently out of the Z-wave model. I ordered mine direct from RGBgenie. They have them in stock now.
Hmm I have a Garmin Forerunner 935 at the moment. Maybe.....
Looks like the ZV-1008 is no longer on Amazon, though it can be found on the RGBGenie site and eBay.
Yes....I just ordered a ZV-1008 direct from RGBGenie. It is being shipped now.
The kind of thoughtful, creative thinking that indicates a great mind at work.
Don't panic. There will soon be a new update on HE. A new version. You can install it and then see the problems it caused. You will ask "Do I roll back, or do I wait for the hot fix that inevitably follows in a day or 2. Or do I wait for the 2nd hot fix?".
HE Staff: only half kidding!

Except a hard reset resets the radios, which aren't restored by restoring the backup
Well good, I am sure he will have fun re-pairing all his devices
You could always just setup your parents/grandparents with Alexa shows so you an all video chat. That IT project should keep you busy. You can also setup your kids/grandkids incase you need IT help.

Methinks @dadarkgtprince was not thinking of things to save me time...
Ordered one of Sylvania strips so I could have something quick and cheap to demonstrate to my wife how we can use strip lighting in her new closet (she's getting a walk-in closet in an upcoming remodel). I've been talking w/her about built-in LED strip lighting. Should be interesting...
Thanks for the Walmart suggestion, saved me a few sheckels on shipping.
I did our pantry's with strip lighting and a contact sensor switch. Wife loves it and constantly opens and closes to see the light! lol