Button Controller 3.0
Following on the heels of Rule 3.0 is Button Controller 3.0. For some time Button Controller has been a code offshoot of Rule. So with the new UI features and Actions capabilities of Rule 3.0, Button Controller now follows suit with a completely new UI. This release will mark the end of development of Button Controller 1.6. Existing Button Controller instances of earlier releases will still function as before; new instances will be Button Controller 3.0.
The main page of the new Button Controller allows selection of the button device, and then choices from the available button-number / button-action combinations. Each of these offers an Action section. Only those button-number / button-action combinations that are available for the device are offered, and only one action section is available for each combination. Here is a screenshot of an example: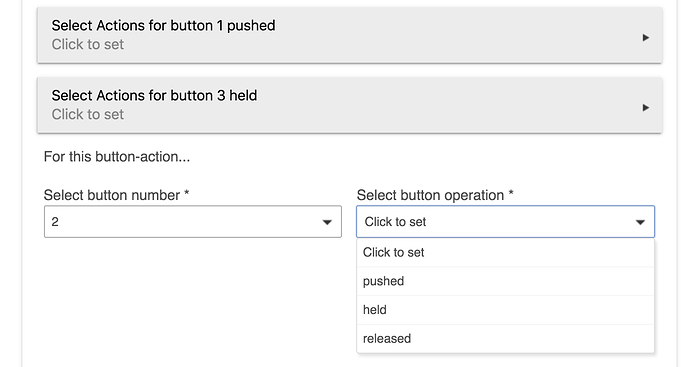 Any subset of all button-action combinations can be selected in any order, and Action sections can be deleted. As with Rule 3.0, logging of button actions is available to see what's going on.
Each button-action combination Action section presents the same UI as Rule 3.0 for defining actions. Just as with Rule 3.0, a script of actions is created, and will execute in the defined order when the button is pushed.
The two main differences between Button Controller 3.0 actions and Rule 3.0 actions are,
(1) Button Controller does not have conditional actions, and
(2) It does not support Global Variables.
Otherwise, the available actions mirror those available in Rule 3.0.
As with Rule 3.0, delays are available for every action, and Delay Actions is available as well. Since there are no conditions, there is no "cancel on truth change". Repeat actions is also available, but for similar reasons the only form available is to Repeat N Times. Without conditions, there would be no way to stop any other form of repetition.