I'm wondering if anyone has developed or is aware of an app/driver that can display multiple alerts on a dashboard tile? In order to do this I'm having to use multiple rules and variables. It works but it's very clunky and a bit of a mess on to add additional alerts to. To explain what I'm looking for, it might be easier to explain/show what I've done to achieve it with Rule Machine. This was also discussed in another post when I first set this up:
For each alert that I want to display I have an individual rule and a global variable. When the rule is triggered, it populates it's global variable with %time% - %alert_goes_here%. When the condition is cleared the variable is set to null in the rule. I have a number of these rules - one for each alert (put the bins out, washing complete, dishwasher complete, get outta here the house is on fire etc). All of these alert rules also run the actions from a second rule, both when the alert condition activates and when it clears....

The second rule (with no triggers) has conditions to check each of the variables. If any string is populated with anything, it sets another global variable (notificationLive) to true, otherwise it sets it to false.

A third rule is triggered by the notificationLive variable above changing. When true it looks at each variable from the individual rules in step 1 and if there's a string in that variable it populates ANOTHER variable (notificationActive) with the contents, waits a few seconds and moves on to the next.
The end result that I have a dashboard tile that remains blank until one or more event rule triggers. Then it scrolls through each alert continually and doesn't clear until there are no active events.
What would be great, would be an app or maybe device driver that handled this, so that I only needed my individual rules for the alerts and could send that alert to another device for display rather than messing around with so many rules and variables.
One of my alert rules:

The second rule that checks the variables ('Notification - Enable')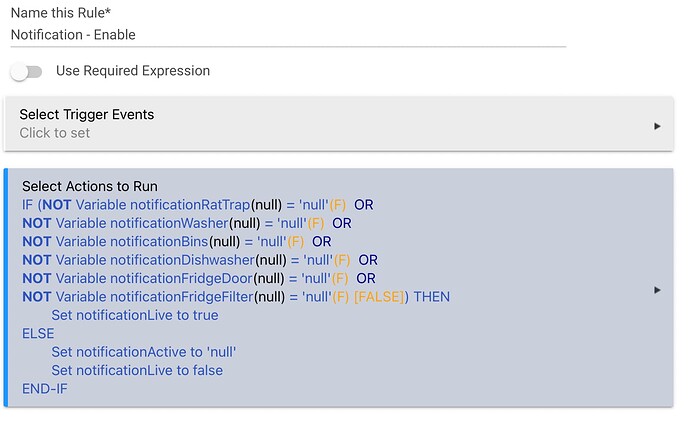 And finally the rule that populates my variable tile on the dash: