there hideous! is that "clipsal"?
hahaha.. y'all never seen these ?
You just run your finger down and the light switches on as it flicks over lol.
I seen your type, its this huge gearshift looking thing.
probably, the builder put in whatever he wanted.
Thats correct, the top one is already on, and thus tapped down to stop the wife and visitors from wrecking my automations lol.
Now at least they look a touch nicer lol.
So now that my system's really stable and im getting into layering, I guess im looking for whats next. I'd like to automate a response when the dishwasher is finished and washing machine, but do I get the aeotec zwave wall plugs with energy monitoring and do it that way ?
also setup alexa to scare my kids who always try and sneak the TV on sat and sunday mornings. lol
would these work for power monitoring, i know they arent zwave + models
Australian here, so that one wont work for me unfortunately.
Aha, I forgot the "down under" reference.
we really need locations under our names hey, lol.
All good.
I like the Aeotec outlets as they also have a USB socket on them.
As it stands I have a switchable power outlet, reporting power usage and acting as a Zwave + repeater.
BUT I also plan to make use of the USB port on the Aeotec to spread my Zigbee mesh by plugging in an ikea, Tradfri, USB repeater. When they finally arrive in AUS !

If one clicks, one can get the location, assuming people have added it.

I often look to see if there's a hint as to the location, although not enough people fill it in. @mike shows "australia" which is great, but when I was fixing LUX for him, I was never sure what my test criteria should be.. I got close enough by guessing Sydney, apparently. It's just convenient.. sometimes to have that hint.
they are just so expensive for what they are, its annoying.
I'd have to say, the last 2 or so weeks have been the most enjoyable in HA i've had. Hub has been buzzing along, all devices have been paired and working. Getting into some more complex lighting etc. Its been a hell of a lot of fun (many thanks again to @BorrisTheCat )
I told the mrs about some new automation I was trying and this or that, she just nodded and said she doesnt have to touch anything anyway - she's glad it all just works.
But now im like, what Else can I automate. I guess I need to get tighter on HSM and get some actual useful notifications in there. I found a cheaper aeotec plug so going to setup a washing machine rule/notification and ease the mrs into being told what to do by a computer lol.
but, its been fun, and not coming home to fix anything, but just tweak here and there when I get a new idea has been the best bit so far. Thanks HE team.
Got myself one of those ikea/sonos speakers. Never had a nice speaker before and Wow - the sound out of it is pretty amazing.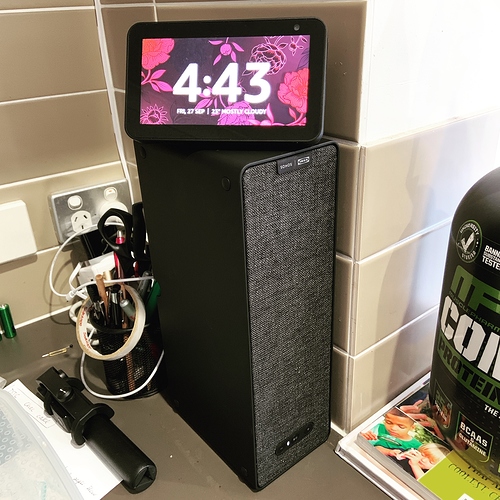 Yeah, I have 4 of those so far with plans to get either 4 or 8 more eventually.
For a cheaper Sonos Play1, they are awesome.
I mean these things could replaced my 15yr old surround sound system, lol. Ok that sounds bad typing that. Really happy with it though.
Not sure if those support Trueplay tuning? You will get an extra bump in sound quality once the speaker learns the room and applies DSP to correct it.
Yes, they do. However, only iOS supports actually enabling Trueplay tuning (which is just plain stupid).