EDIT: Previously I had put a * in the title next to "Internet Required" as there were some options that required the internet, and some options proposed that did not, including the use of a smart plug to toggle power to the tablet, as well as my current solution of a LAN based HTTP GET. I have since had some success with the local AutoRemote / Tasker option, however I still want to prove this is reliable. I decided to call it and say this solution does not require the Internet, and have changed the title to match this, but still need to document the final setup that delivers on this.
I've been meaning to tackle this for a while, and had seen similar posts and thought I'd give it a go...
Amongst other things, on the side of my Fridge I have an old tablet and and Hue Motion Sensor.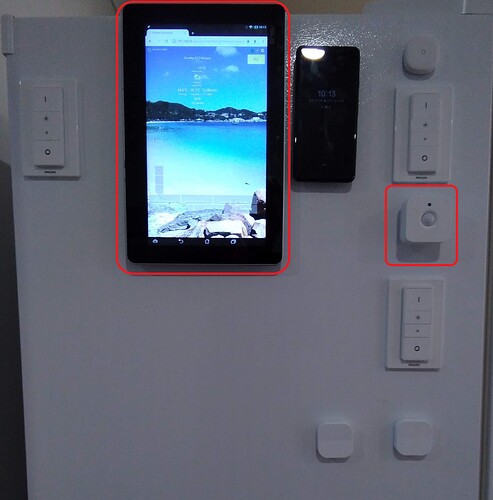 So I decided to setup some rules and other integrations so that the tablet would display my main dashboard when I walked up to the fridge.
The first thing I did was install Tasker and Auto Remote on the tablet. I should capture a few more details than this, but for now let's say I
Installed both Tasker and AutoRemote
Setup a profile in Tasker to be triggered by an Event, choosing AutoRemote
Set the message for the AutoRemote Event to be "screen_on"
The task triggered by the profile launched an app, selecting Chrome (I would like to refine this, see comments at the end). This relies on having the HE dashboard already open in Chrome and as the tab with focus in Chrome.
Setup a similar profile and task, using a message filter of screen_off and choose whatever alternate action to run in response, I chose to launch a "clock" app as I do not have the option to turn the tablet on/off
With tasker configured and working, I then setup the rules on my HE hub:
First I created a Virtual Switch called Kitchen Tablet Display Dashboard, with not auto-off configured
I created a rule to turn this virtual switch on / off based on motion detected by my Hue Motion Sensor
Next I setup a second rule to respond to the virtual switch being turned on / off, sending the appropriate HTTP call to AutoRemote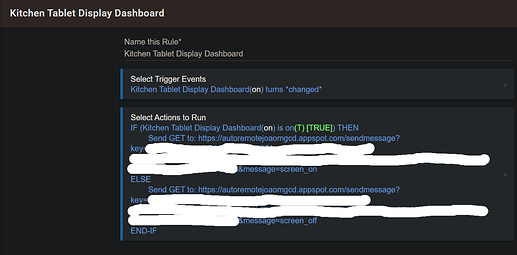 I originally had just one RM rule based on motion, but I was getting re-activation when motion was re-activated while standing in front of the tablet, annoying when I was switching to other apps apart from Chrome.
I will also be re-instating my charging cable I had done away with, remembering what I had read about Tasker draining battery quite quickly.
One refinement I would like to try and make is to launch a copy of the dashboard that has been saved to my home screen from within Chrome, which does not display the Chrome header, i.e. the tabs and other menus, etc.
One other idea I have had is to setup an RM rule to trigger the display of a different dashboard when I have an activity turned on in my harmony hub, displaying a very simple A/V dashboard I have setup with buttons for different TV stations and volume controls.
Simon