We want to install a smart automatic gate opener ~550 ft from the main house. Ideally, I would like to use Zigbee/Z-wave, but I'm not sure how far they go. We do have a GH/Workshop in between the main house (~200 ft) and the gate (~350 ft) if that helps.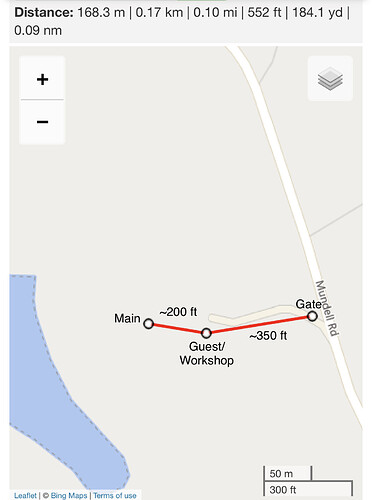 With WiFi, I can try an outdoor directional access point from the GH; although, trees and elevation might make that tricky.
What's the best way to extend my Z-wave/Zigbee that far? Or should I try to stick to WiFi?
As far as products, IF I can get my Z-wave that far AND somehow make it back & forth in 4 hops… I was thinking of the Zooz Zen16 or Zen17 with any regular electric gate opener. Open for any Zigbee Multirelay suggestions or even WiFi. If there are kits that integrate well with HE, I'd be interested in those, too, even if they cost a bit more. Eventually, we'll want a keypad and maybe an intercom there.