Keep your hue lights connected to the hue bridge. But connect any buttons and motion sensors to the habitat directly.
Ok will do…thanx you guys!!! I don't feel so alone
I say, Iris motions ( from eBay) are great and being Zigbee work here just fine.
Get a 10 pack.
Otherwise SmartThings sensors from JB HiFi work without the complications that the xiaomi devices, have. Slightly more expensive but WAY less "work" needed.
Yep normal, I have some on HUE and some on HE (all bulbs on HUE). The only motion sensors etc I put on HE are for more complicated rules the HUE cannot do.
Cheers
Steve
I just noticed that the Tp-link powerboard is now sold at JBHIFI so you could just get that and use the Hubitat community driver for it.
Yes, they were on special 2 weeks ago, and I got one for $67 delivered via ebay. They work well. Much thanks to @djgutheinz who quickly updated the integration.
Btw I forgot to let you and the others know. I learnt from Kevin (3asmarthome) last week that the little toggle switch under the Nue switch cover actually turns off the blue LED's. I had no clue LOL.
What??! Is this for the new models, or all ? I will need to examine? Where is this toggle?
Yeah I know right he should totally advertise this. No i believe it's always been there. If you look top left of this picture you will see it. Mine is broken in this one which is why it came up and I have sent it to him for repair.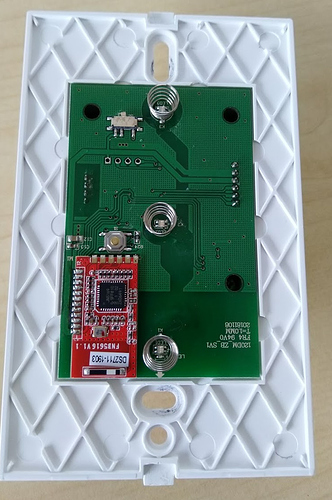 Maybe only came along then in the last couple of generations. I haven't required it I was just interested to hear it's possible.
I can swear by the Samsung sensors, I've got 4 of them across various installs and they haven't missed a beat, depending on where you are RACV have the best price still, Samsung won't price match haven't had time to see if JB will, RACV add a flat $14 or $15 postage so buy the time you order 2 your better than the jb price. They didn't take long to arrive from RACV either, was under a week.
OK so I just had my Somfy blinds installed today and they work flawlessly with the Bondhome.io hub. Many thanks @bond-jacob :)

FYI: @sburke781
Thanks for the update @jchurch, glad to hear your blinds are working. I was getting a little worried reading about your issues with the fans. I think my somfy motors are likely to be installed in the new year at this stage.
Nice one. Also my bondhome.io / fan problem should be sorted soon with a workaround. The only thing really effecting me though are rule machine rules but dashboard selection in HE is solid, in fact I haven't used the fan remotes at all but its just these fans don't have a true on / off button only a toggle switch, my rear fan (another brand called Infinity) doesn't suffer from the issue. I just wanted a rule that turned them on and off which would be nice at some stage.
Ordered 2 to test - hopefully easy enough to get going.
Also if you have Prime, they are $58 delivered. Better than ebay pricing.
If anyone else is interested I'm just starting to play around with the Mitsubishi Electric API, specifically for the cloud service linked to the AU/NZ Wifi adaptors, referred to as MELView, i.e. NOT the MELCloud service for Europe or the Kumo Cloud for the US. It seems pretty straight forward, hopefully I'll have something simple in the next few days to a week.
Separate to this, I've also done some work integrating the temperature readings from my Philips Hue motion sensors still linked to my hue hub, as well as SensorPush temperature sensors. Might release some of these once I tidy up the code a little more.
EDIT: Adjusted my phrasing in the first paragraph after some confusion with a user in Europe expecting my code to work, when in fact it is MELCloud in Europe, with a different service and difference API

I left the code dormant for some time, but have been tinkering more recently and hopefully will end up releasing it sometime soon, perhaps even with the MELCloud integration as well.
I started work on exactly the same thing about a year ago. I based it on the ST sensibo code. But I never finished it and life got in the way....I was hoping that the warm weather would give me an incentive to start working on it again!
Anyway, I'm interested in what you come up with and can help test and debug.
Thanks @pjam73. I found a good article that listed the HTTP calls, which all seem simple enough:
Not sure how flexible my code may be initially, I have a ducted system with zones, but will see how flexible I can make it. Do you have a ducted as well or a split system?
Simon