Howdy All,
I am Newbie to Hubitat and home automation, so hopefully this is an easy fix.
Hubitat Info:


I have searched and been reading and trying to fix this for 2 days.
It isn't my network. Network controls Hubitat Static IP via DHCP (not Hubitat Static IP setting)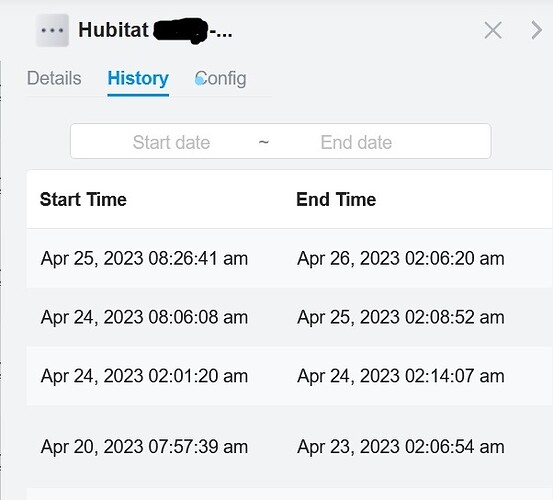 You can see that my network shows it is offline a little after 2 am starting on the 23rd.
Unfortunately, I have been updating the hub to the latest firmware when it shows up, and I didn't save backups often enough: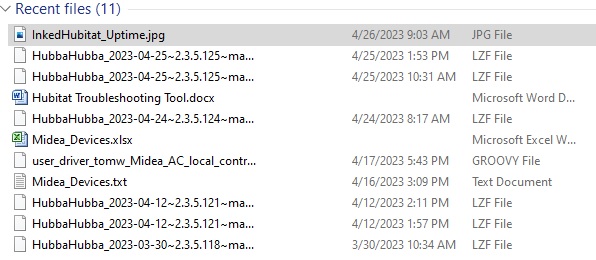 Error Logs do NOT show any errors.
Error Log just stops getting any information (Text, Event, etc.) at 2 am +/- a few minutes depending upon what text logging and time interval were set at.
Hubitat is unreachable via IPAddress:8081 debug technique. (No screenshot available)
I have been updating ALL of my RM Apps and testing them individually by running actions.
I have removed all Required Conditions that changed any Required Conditions inside the Actions (not that this should matter, but just in case).
There are no Broken Conditions or Unused Conditions in any of my RM Apps.
All Apps function as expected.
Tonight I I will power cycle the Hubitat at 2am, and turn it back on at 2:15 am via an Amazon Plug and Alexa control. I have already added and test an RM App to reinitialize Modes, Variables, and Devices that are essential to RM Apps having the correct starting conditions. I could not find a Reboot Hubitat Condition/State/Event, etc. RM documentation to perform the Reboot in Hubitat automatically, so I had to add this brute force Alexa Reset. I would prefer not to do it this way, so any help would be appreciated.
If this doesn't work, I guess I can try the Soft Reset, but I haven't read enough to be comfortable with all that I would have to do to get my Devices/Apps back up and running. I started this journey the first part of April and have many hours invested at this point.
I appreciate any help I can get. The only experience I have in any sort of Home Automation is what I have learned so far this month.