A very small driver that provides "notification" capability to your TV (running Android) expanding the notification ability of your HE! It requires the install of a server component that runs on your TV and a small driver on HE.
Features
Ability to raise notifications to your TV (running Android) from within your HA rules
Preferences to configure where your notification should appear on the screen and font size
Sound notification and duration of how long the message should appear on the screen can be controlled by the Notifications for Android TV server component.
Setup
(a big thank you to Christian Fees who wrote this application - without it, this little driver and notification capability wouldn't have been possible!)
You do not need to install or configure anything on your mobile device for this to work. The server component effectively acts as a listener to the HE and throws up notifications onto the TV.
On your HE, add the androidtv_notifier_driver.groovy to your drivers code section and click save.
Create a virtual device setting the type to AndroidTV Notifier Driver.
Enter the IP address of your AndroidTV
The name of the notifier (title of the notification), screen position and font size have default values - feel free to change.
Click Save Preferences

To test all is working, within the device enter a message and click the Device Notification button.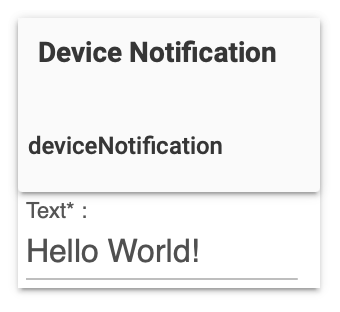 If all is working then your message will appear: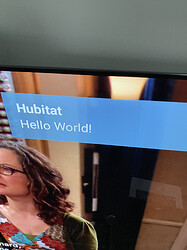 Hope you find this useful. I was looking for something like this yesterday and couldn't find anything so knocked this up.
Enjoy!