I know there's a few other issues like this already although many of them were created a while back.
In my case, geofence presence had been working great for a while.. I often go on a walk in the neighborhood and I get the 'out of geofence' notification I setup right when I leave the area and also when I return.
But, recently I'm not getting the notification and my device's presence isn't changing. Often, I can manually start the app and it'll update the status. But, sometimes like this picture suggests that doesn't even work.
Note that the blue dot is accurate and I'm well outside of the geofence but the app still thinks I'm inside..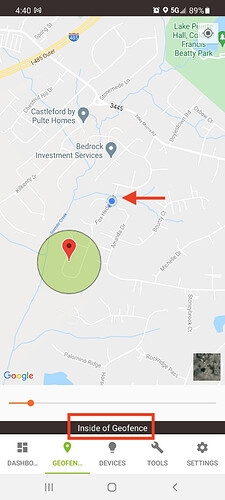 Is there some kind of debugging that I can do to help figure out what's going on? I'm an Android developer and have some geofence experience too.
I figured I could try logging out and back in again and maybe that will fix things.. but, if this is something that happens to others I thought maybe it'd be useful to figure out the issue first
---
I should add that I'm also whitelisting the app from any kind of battery optimization.. in this case Samsung S20.