Have contacted support and everyone here raves about their support but it's been super slow. They even say they will call and have asked multiple times for them to call to no help. Hoping someone here can assist as I have had this switch just hanging here for about 2 days now.
In the photo of the Wemo (which works) Traveler 1 and 2 plus the white neutral are coming from the Romex going to the old school switch.
On the old school switch I labeled common and the red cable which are the ones that go upstream to the Wemo along with a common which I see in the old school switch box which also goes upstream.
Based on documentation on the Zooz 76 switch which I have, my setup looks to be the same as "Option 2"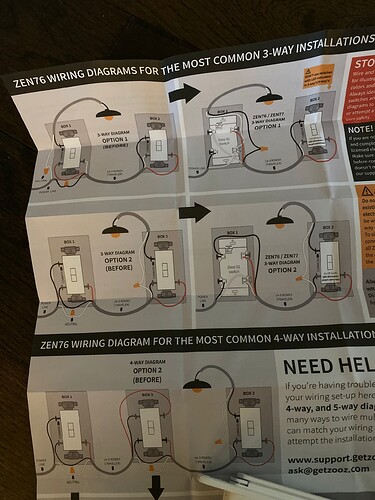 That is exact how I wired it the very first time, and all that would happen is that the light would keep clicking on then off over and over again with the physical light flickering. If I clicked off the old school switch then light turns off completely.
I'm at a loss. I plug Wemo back in and all is back to normal.