I'm fairly new to Hubitat but have already successfully paired over 30 devices (mostly Sonoff switches and sensors using the Oh La Labs drivers) without any significant issues.
Now I'm trying to add a Zigbee RGBW bulb. I want to connect this directly to the C-7 hub network, not via a Hue Bridge or anything, because I don't envisage ever having more than one – max two – smart bulbs (all my other lighting is/will be regular bulbs on Zigbee switches).
I researched best colour bulbs for Hubitat, but most of the recommended ones (like Sengled) aren't available here in UK. So I bought the inexpensive "Cskyzk Zigbee Smart Light Bulb RGBCW" from Amazon because it is advertised as working with SmartThings, Alexa, Philips Hue, etc so I figured it should be ok with Hubitat. It paired immediately but I couldn't manage to get any driver to work with it. One driver could turn it on but not off or anything else. A different driver worked to select the colour but not to turn it on or off! I eventually returned that bulb to Amazon, figuring that it was non-standard and incompatible.
After further research, I found the "Innr Smart Bulb Colour E27 RGBW" which, although twice the price, I at least felt reassured it would work since it's included on the Hubitat Community Device Drivers (AKA Compatible Devices Wiki) list. But again, this one paired straight away yet I can't find any driver that will get it to do anything at all!
Both bulbs auto-detected as Advanced Zigbee CT Bulb, but I also tried:
Advanced Zigbee Bulb
Advanced Zigbee RGB Bulb
Advanced Zigbee RGBW Bulb
Generic Zigbee Bulb
Generic ZigBee RGB Light
Generic ZigBee RGBW Light
There are people on this forum saying they are using Innr bulbs with both the native generic and advanced drivers, so I feel like I must be missing something. But what?! Any ideas?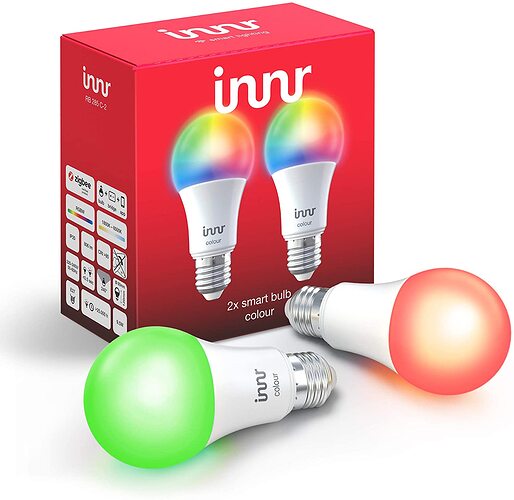 View product listing on Amazon UK