So, a funny thing happened that has inspired the question in the title. Read on...
Over the past several months I've been driving my wife crazy with my obsession over the home automation rabbit hole. And, she has been pretty patient with me... for the most part. One of the selling points on automating everything was the idea of using tech to keep the deer out of our yard. They are particularly annoying to her because she loves gardening and she is always planting flowers that the deer just can't seem to resist. They are so bold about coming into the yard, sometimes I feel like a server at a salad bar when I open the door and find them on my porch munching away.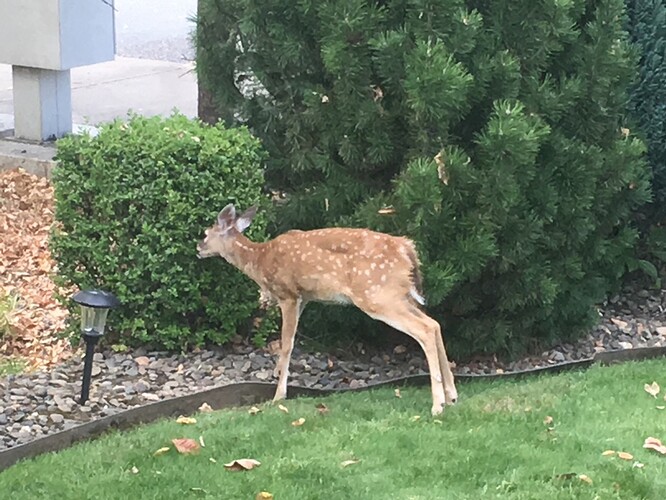 So, a couple of nights ago, I finally got around to figuring out how to use the motion of my outdoor Ring cameras to turn on my Rachio sprinkler system. Considering I didn't want to inadvertently spray down the mailman or whomever else might happen by, I created a flow in Node-RED to only allow the sprinklers to fire off between sunset and sunrise.
So, yesterday evening I'm minding my own business, when I hear the sprinklers trigger in the back yard. This got my attention because I wasn't expecting it to trigger that early and I wondered what had triggered it.
My first mistake was going outside to find out.
As soon as I opened the door I find my wife standing there, soaking wet, and holding the garden hose. Apparently she went outside to water her flowers, made it all the way across the lawn where the garden hose is, and got about half way back before the sprinklers triggered. She gave me that look (if you're married you know the one) and said, "Not cool."
I knew I was in trouble...
...but being the dummy I am, I laughed, because it was funny. To make matters (much) worse I asked, "Did you get wet?"
That was my second big mistake.
Without any hesitation she unloaded the full force of the garden hose at me and sprayed me down. I knew I deserved it, so there was no way I could get mad about it. Plus she looked pissed enough to beat me with the hose, so I figured a little water was the better alternative. Of course, I completely cracked up laughing which, thankfully, made her start laughing. Bullet dodged. I thought for sure I was in the doghouse big time. (There is no internet access in the doghouse by the way.)
On the upside, I know the flow works. No idea why it fired off in the middle of the day though, so I tweaked the time to start at 10pm, which seems to have fixed the problem.
This did get me to wondering how many other people around here have funny stories about automation gone wrong. If you have one, please share. Hopefully someone around here will have something great I can tell my wife so I will look like an angel in comparison.