Hi folks. I have two rules that can do the same thing(pretty sure) - one in Basic Rules and the other in Rule Machine.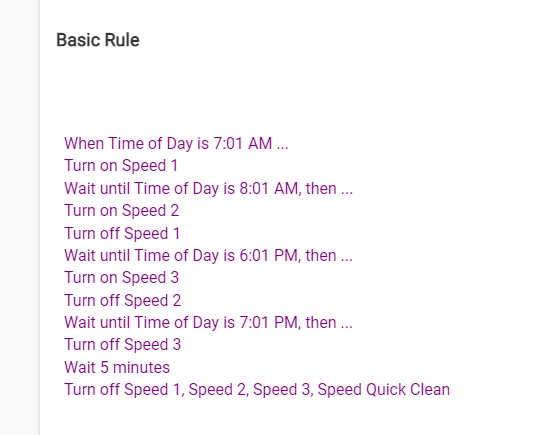 In Rule Machine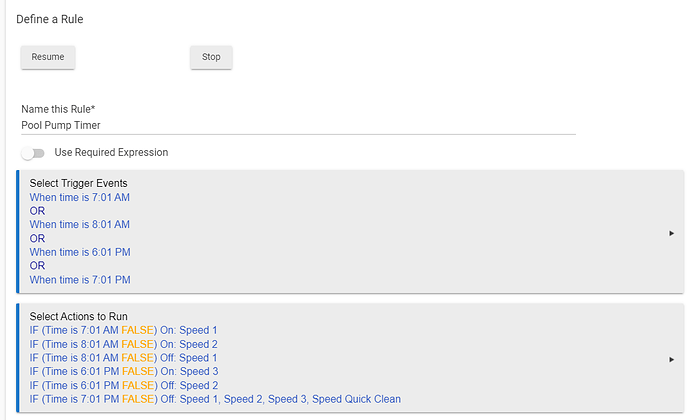 There are 4 switches for the 4 pump speeds. The basic idea here is when one switch is on, the others need to be off.
The Basic Rule works great but I was thinking I could rewrite it differently using Rule Machine as an experiment. Since Actions seem to run from top to bottom, this is what I came up with. The problem I'm having is the IF statement only does one thing and I want it to do several.
For example I want to do something like this and I'm using the 2nd IF statement in Rule Machine as an example;
If(Time is 8:01 AM) On: Speed 2 "AND" Off: Speed 1. There isn't an "AND" so I had to add an additional IF statement to turn off Speed 1.
Basically what I'm trying to achieve is at a certain time trigger, turn one switch on THEN turn off any of the other switches that are currently on.
And yes, I do want to turn the next speed on before turning the previous speed off. So for a brief moment, there will be 2 speeds "On". This is fine.
What would be an efficient and practical way to do this to the more experience folks out there? Like I mentioned earlier, the Basic Rule works fine. But I'm curious to see others "logical process" in figuring out how to do this.
Thanks,
Jeff