Hello Friends,
I've been working for the past several months on an Apple iOS app to act as a dashboard for both Hubitat devices and Apple HomeKit devices. The name of the app is HomeStat. I and a few family members have been using it for several months. The WAF for home automation was quickly and positively impacted while using HomeStat.
Would you be interested in Beta Testing HomeStat?
New Beta Version Released - Monday Feb 10 - v2020.2.1
Send me a PM to get an invite!
This is my first public app. I have been using HomeStat on 37 of my devices, which are mostly Motion Sensors, Door Contact Sensors, Virtual Switches and various Lights/Bulbs. Please let me know what works and what need improvement.
Here are a few screenshots. Better and more detailed documentation to follow.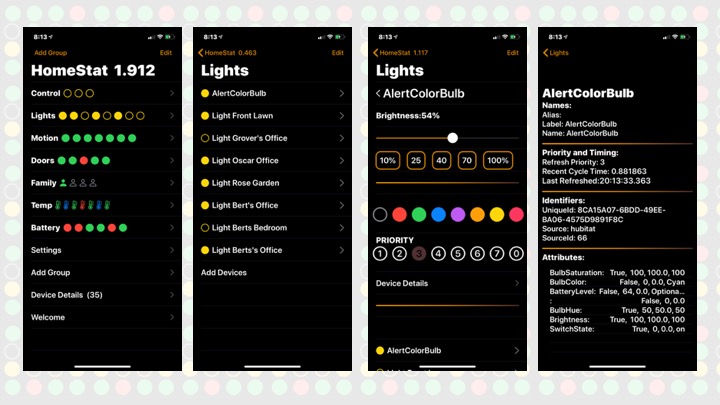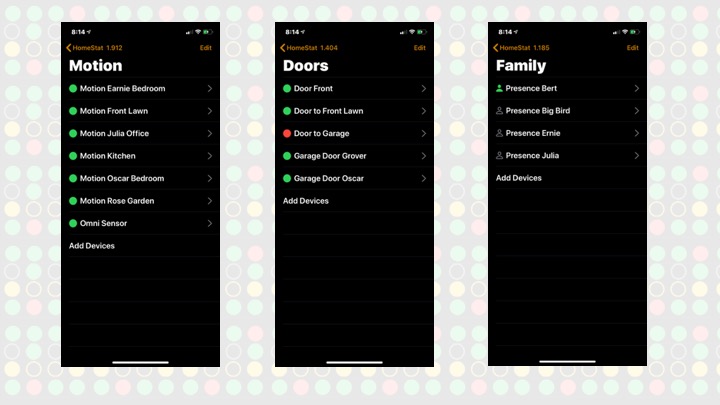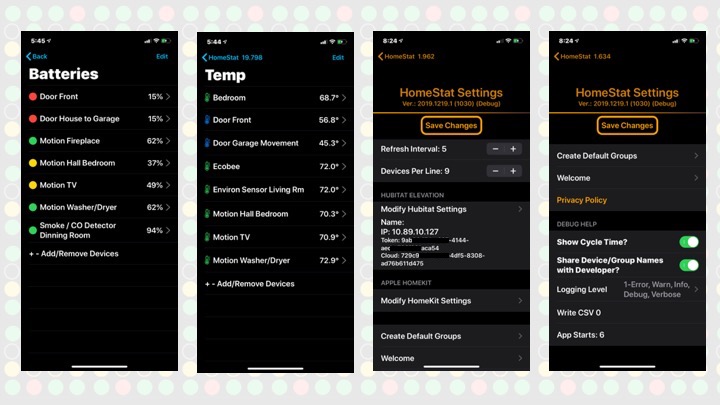 A few quick notifications:
HomeStat sends log messages to a secure server. I am the only person who can see the names of the devices / groups that you associate with HomeStat, Hubitat and HomeKit. In the settings you can change the log level and cloak the device and group names sent to the log server. But it does have value in debugging and app usage to leave logging enabled.
I'm using a service from SwiftyBeaver for logging.
In the settings, you can control the amount of information sent to the log servers.
My long term goal is to make a few dollars from this App. Eventually, HomeStat will have a paid tier.
Those who are engaged beta testers, will receive free use of HomeStat for at least 1 year
HomeStat is a dashboard and device control application for your Apple HomeKit and Hubitat connected home automation devices. Assign each device to one or more Groups. Quickly visualize the status of devices from the main view. Watch the status change on devices as the real time status changes in your home. Drill down into a group for detailed status and the ability to send control commands to the devices to change brightness, color and toggle on/off. See the battery status, temperature and other attributes associated with devices. Another high WAF feature is the ability to assign an Alias to a device. A few of my devices have odd names for me. The family has given them their own names to meet their needs.
HomeStat uses the MakerAPI to poll the devices. Too many devices and too frequent polling could have a negative impact on the responsiveness of your Hubitat Hub. You can adjust the polling frequency and priority of devices. Additionally, when using HomeStat, I'm usually in it for a minute or so then I'm done, it's not yet a 24x7 dashboard.
EDIT
Originally I posted a public link here. I've reached the limit for that link.
Send me a PM with your email address and I will send a link unique to you.
I'm still need beta testers.
You will also need to download the TestFlight app from the Apple App Store. I don't yet allow this to run on an iPad.
Thanks for participating, have fun and please send feedback.
Steve Murphy