iRobot Scheduler is an application and device that enables local execution and scheduling of Roomba and Brava cleaning tasks in assistance with a Raspberry Pi running Dorita980 and Rest980. This application and device works with ALL WiFi enabled Roomba and Braava devices.
Highlights:
Complete step-by-step instructions for RPi and Hubitat configuration
Control multiple Roomba/Brava devices from a single RPi using multiple iRobot Scheduler installations
Roomba/Brava Device auto-creation; Device named based on user config in iRobot app
Pushover Notifications Start/Stop/Full Bin/Dock-Charging/Error/Battery Died
Advanced Cleaning Schedule for up to 10 cleaning times per selected days
Presence Schedule - auto start, delay and auto-dock
Advanced Options for non-900+ series Roomba/Brava devices
Roomba 900+ Series cleaning settings and Map
Dynamic Dashboard Tile
AppWatchDog2 Support
Dynamic Dashboard Tile:

Device Information page: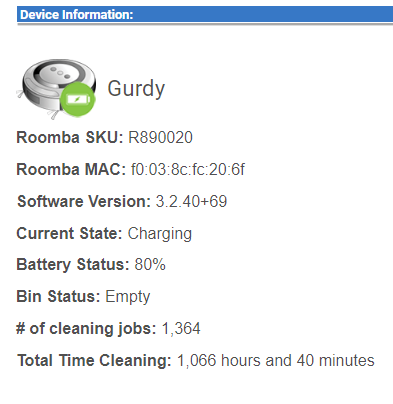 Special thanks to @dman2306 for the initial code concept and permission to use his code to develop this application. Also his addition of the Brava code changes needed for integration of both device types.
Donations are always appreciated:
iRobot Scheduler Changes:
1.3.5 - fixed spelling of "Braava" not "Brava". Added a setting to use a switch to override presence settings (great for a global pandemic!)
1.3.4 - removed AppWatchDog, added last cleaning visability, added ability to start a Brava device after successful docking/charging
1.3.3 - changed app name to iRobot Scheduler and added contact sensors for cleaning schedule restrictions
1.3.2 - Added basic support for Braava m6 (supports notifications for tank being empty instead of bin being full) - thanks @dman2306
1.3.1 - finalized logic fixes for unique use case scenarios (thx dman2306 for being a patient tester)
1.3.0 - fixed additional logic for unique options set, optimized presence handler
1.2.9 - fixed bug in notifications and battery % start
1.2.8 - lowest battery option for start cleaning, new delay presence options, new day cleaning enforcement, restricted days for cleaning, more error checking, reset application state option, fixed updateDevices scheduling issue
1.2.7 - optimized scheduling code (thanks StepHack!), fixed additional scheduling bugs (thx dman2306)
1.2.6 - fixed i7series result set for Roomba information
1.2.5 - fixed restriction logic so restrictions work, more notification choices, UI updates
1.2.4 - i7 series modifications to dock roomba correctly
1.2.3 - added ability to restrict cleaning based on switch, turn off resticted switch if presence away options
1.2.2 - added additional notification options for errors, add time-delay for notification of errors
1.2.1 - fixed current day scheduling bug, minor tweaks and fixes
1.2.0 - fixed scheduling bug
1.1.9 - fixed notifcations for unknown error codes, couple additional bugs discovered in logic
1.1.8 - added more error traps, error8 - bin issue attempt to restart cleaning, advanced presence options
1.1.7 - fixed bug if unknown error occurs to continue monitoring
1.1.6 - support for dashboard changes in CSS
1.1.5 - full customization of notification messages
1.1.4 - added ability to have multiple Roomba Schedulers
1.1.3 - reduced device handler complexity, added support for device switch.on/off and options for off
1.1.2 - fixed dead battery logic, added Roomba information page, added specific error codes to notifications, setup and config error checking
1.1.1 - fixed notification options to respect user choice for what is notified
1.1.0 - fixed global variables not being set
1.0.9 - ability to set Roomba 900+ device settings, advanced docking options for non-900+ devices
1.0.8 - determine if Roomba battery has died during docking
1.0.7 - add duration for dashboard tile, minor grammar fixes
1.0.6 - add all messages for dynamic dashboard tile
1.0.5 - added bin full notifications, refined presence handler for additional cleaning scenarios, support for dynamic dashboard tile
1.0.4 - added presence to start/dock roomba
1.0.3 - changed frequency polling based on Roomba event. Also fixed Pushover notifications to occur no matter how Roomba events are changed
1.0.2 - add ability for advanced scheduling multiple times per day
1.0.1 - added ability for all WiFi enabled Roomba devices to be added and controlled
1.0.0 - Inital concept from Dominick Meglio
Roomba Driver Changes:
1.1.6 - fixed CSS layout for smartly dashboards
1.1.5 - removed AppWatchDog
1.1.4 - Roomba driver backup of failed application scheduled events
1.1.3 - fixed on/off states
1.1.2 - additional CSS fixes to ensure of future dashboard changes won't affect tile
1.1.1 - fixed CSS for dashboard update
1.1.0 - support for switch control on/off, handler changes
1.0.9 - error in namespace preventing creation of adding device
1.0.8 - added logging option
1.0.7 - added battery died notifications
1.0.6 - cleaning duration
1.0.5 - added all possible tile outcomes (cleaning, docking, stopped, error, dead battery)
1.0.4 - added dashboard tile updates
1.0.3 - moved all notifications back to app
1.0.2 - modified how pushover works
1.0.1 - added pushover notification capabilities
1.0.0 - Inital concept from Dominick Meglio