Hello everybody!
I am relatively new to the habitat ecosystem and I try to figure out some stuff.
I have 7 Sonoff temperature sensors, which I have successfully set up.
but their reporting frequency is very rare.
I have read similar topics
Wont' update
Humidity related
but I haven't manage to make it report on the resolution that I want.
Typically it sends 1-4 readings per hour (most usualy 1 per hour).
The settings are set to be 0.25C , which is not respected. I usually get 0.5C intervals or more.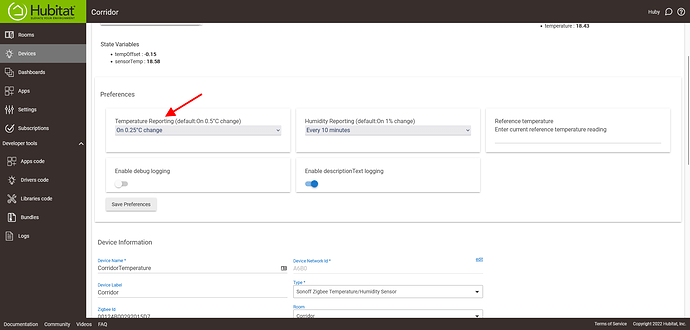 even if I make the reporting every 5 minutes it does not send events every 5 minutes.
I have also tried apart from the official "Sofoff Zigbee Temperature/Humidity Sensor"
a)Zigbee - Sonoff Temperature & Humidity Sensor
b)Zigbee Reporting Configuration
with similar results even when these are selected.
I have also tried to remove and re-add the sensors with no particular luck as well.
Batteries are brand new (reporting 100%)
When seeing the events I get something like this

Any idea would be more than welcome.
Thank you in advance!