For Context: For others using Twilio, make sure to look into your account and your number(s) to make sure you do that registration process, or it's likely, like me, notifications will just stop. The 10DLC process is designed to stop spam and fraud, and that mechanism does have a cost associated with it (which I'm not happy about it, but the costs are low for the time being). This is a US-wide change in the systems for sending messages to individuals, so Twilio is not the only service affected. The process for registering a number under the 10DLC program takes a few weeks, so I might not get text messages for a while.
Backstory: So my smoke detector went off in the middle of the night (a known issue with the First Alert combo CO/Smoke units past a certain age), and I didn't get my text message from the Safety Monitor. Turns out, it was blocked for "US A2P 10DLC - Message from an Unregistered Number." (see attachment, and also this article Error 30034 | Twilio) Funny thing is, my wife got the text messages, and we're with the same carrier!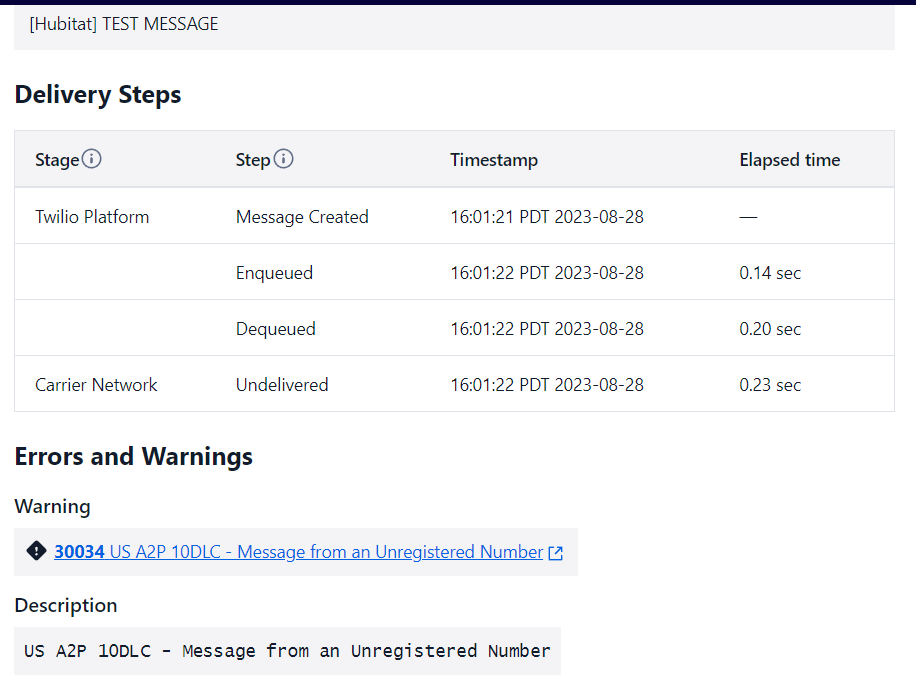 I've changed some things to make it more obvious why the alarms are going off because at 4AM, the confusion, anger, and frustration overrode rational thought. Trying to turn off the sirens not knowing what was causing it just didn't work (Hubitat was following the rules I gave it and keep setting them back off, but because I didn't get the notification I didn't know why). Ultimately I just had to pull the detector down. The weird thing was the detector ITSELF wasn't going off initially, hence the confusion. It did finally sound after the 3rd or 4th "Smoke Detected" message was sent to the hub, but after all my other alarms were already going off. At least I know the hub will wake me up during an actual emergency!
[spelling edits]