Looks like the onboard flash memory in one of my first AlertMe motion sensors has failed.
A mere 14 years of constant operation.
WHO WILL WARRANTY MY TEARS AWAY?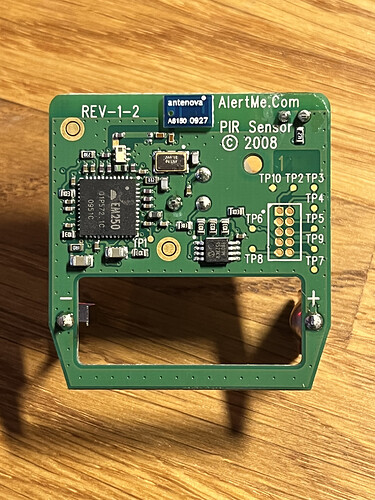 It had been getting a little twitchy on battery replacements, so I'd tinkered with my driver thinking it was my fault. Sometimes it would forget it was connected to a mesh after the battery was swapped, so I would reset it and it would take an age to leave pairing mode.
This time around no amount of resetting and re-pairing would get it to leave pairing mode, even after it had been detected by Hubitat and yelled at by my driver. Every other identical sensor behaves with no issues, so I'm guessing that the EM250's flash storage is simply kaput and no longer storing the mesh details.
Ah, well!
The little 8-pin 9801M IC is the temperature sensor.