You can now include rain radar images from the Australian Bureau of Meteorology on your dashboards.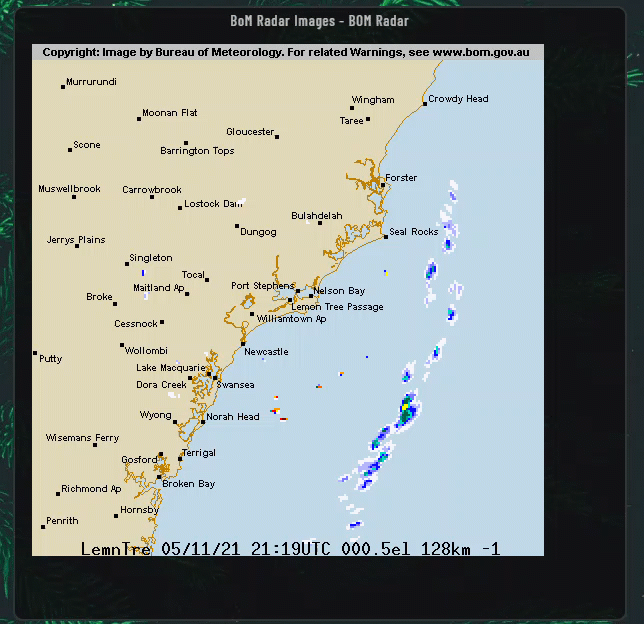 The driver is available via Hubitat Package Manager and includes my Image Cycle Driver as well.
How does it work?

This BoM Radar Images Data File driver retrieves URL links to radar images from the Australian Bureau of Meteorology web site, passing these over to the child Image Cycle device to store these URL's in a JSON file on the HE hub. If turned on, the Image Cycle device also stores a HTML file used to display the radar images and updates an IFrame attribute that can be used in HE dashboards.
Virtual Device Installation and Configuration

Once the drivers are installed...

Create a new Virtual device using the BoM Radar Images Data File driver
Open the BoM Radar web site in a browser, navigating to the location and zoom level required
Copy the Observation ID from the URL in the address bar, e.g. http : //www.bom.gov.au/products/[Observation-ID].loop.shtml#skip, pasting this value in the Observation ID number Preference setting for the new Virtual Device
Adjust any other settings as required, such as choosing what background images to include (topography, locations and range images), turning automatic updates on / off and the frequency of these updates, turning various logging levels on / off
Click Save Preferences to apply the changes
Click the Refresh command (button) at the top of the Device Edit page to force retrieval of the image details
Refresh the browser window, scrolling to the bottom of the page to confirm that an Image Cycle child device has been created
Click on the Image Cycle device, confirming that the iFrame attribute displays the radar loop on screen
Adding Radar Images to a Dashboard

Open the Apps page for the HE hub, locating the Hubitat Dashboard App
Click on the dashboard you wish to add the radar loop to, updating the list of devices to include the child Image Cycle device, clicking Done to accept the change
Open the Dashboards page for the HE hub, clicking on the Dashboard to be updated
Add a new tile by clicking on the plus (+) icon in the top right-hand corner (unless you have re-styled this....)
Set the position and size of the tile, selecting the Image Cycle device, the Attribute template and the iFrame attribute from the drop-down displayed

Alternatives for display on a dashboard could include using the iFrame Advanced driver to allow a user to click on a tile and the radar loop pop-up on-screen.
All feedback and feature requests are welcome