Starting a new thread for continued development/support of the iRobot Scheduler App. The original thread has discussion of prior development and issues.
iRobot Scheduler is an application and device that enables local execution and scheduling of Roomba and Brava cleaning tasks in assistance with a Raspberry Pi running Dorita980 and Rest980. This application and device works with ALL WiFi enabled Roomba and Braava devices.
Highlights:
Complete step-by-step instructions for RPi and Hubitat configuration
Control multiple Roomba/Brava devices from a single RPi using multiple iRobot Scheduler installations
Roomba/Brava Device auto-creation; Device named based on user config in iRobot app
Pushover Notifications Start/Stop/Full Bin/Dock-Charging/Error/Battery Died
Advanced Cleaning Schedule for up to 10 cleaning times per selected days
Presence Schedule - auto start, delay and auto-dock
Advanced Options for non-900+ series Roomba/Brava devices
Roomba 900+ Series cleaning settings and Map
CleanRooms support for i7/s9 devices - clean specific rooms on the map
Dynamic Dashboard Tile
AppWatchDog2 Support
Dynamic Dashboard Tile:

Device Information page: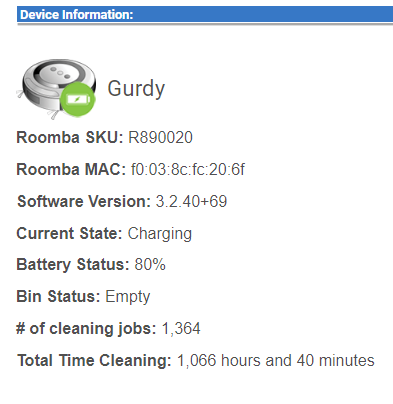 Special thanks to @aaron for permission to use his code to continue development/support of this application.