I've started playing with pico remotes through the Lutron app. I added several and then removed them and then added another one. Normally the list adds another entry after the previous one is completed: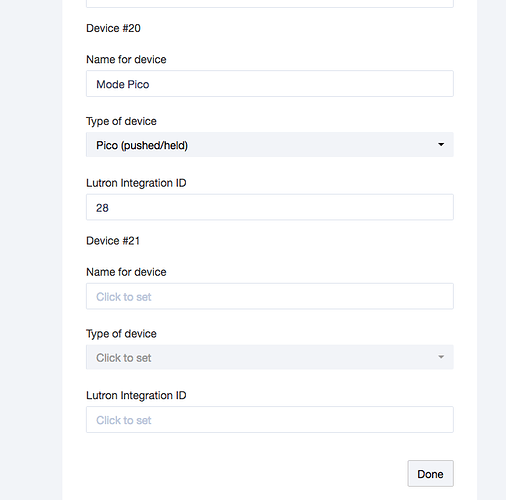 When I was removing the picos, I was just deleting the information out of the fields and then selecting done. After I removed 5 picos, and selected done, everything seemed to work fine. I then added a new one and I ended up with two blank Device Entries at the end of the form. I couldn't get the new pico to work (through the button app) and the live logging section kept referring to a "null" entry or value. I didn't save any screen shots since I didn't get what was going on.
I deleted the Lutron app and added and all my lights again (PITA)! I also added the pico and it worked nicely through the button app. I didn't receive any null errors in the live logging either.
Is there an official process for removing devices from the Lutron App?