Hi,
I have an inferred beam that reports activity when something breaks the beam. It is hooked up to a Ecolink contact sensor external inputs and works like a charm on notifications. It is fast and solidly reliable.
I was building a rule to help with parking in the garage, and I'm having trouble. I get it to turn off and on but I want it to go from green to red when the beam is broken and a vehicle is blocking the beam and then back to green when the vehicle has cleared the beam. It should only come on when the garage is open which is the test contact sensor.
*Note (The beam contact states report open/closed are reversed, which I am aware of.)
Green light on when garage open (test contact)
Turn red when beam closed vehicle passing by
Turn green when beam open. No vehicle passing by
Turn off when garage (test contact) closed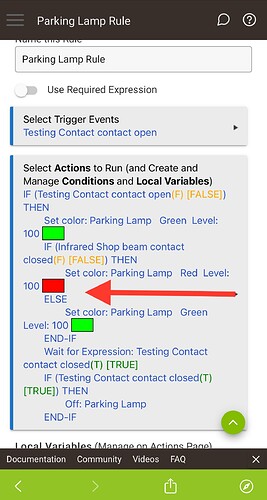 **Edit to the correct category.