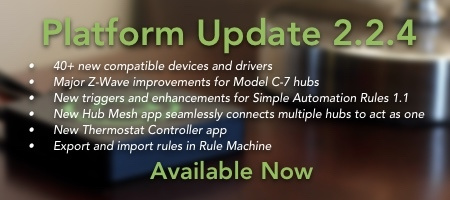 Elevate Your Hubitat Elevation to Version 2.2.4
We're excited to announce one our biggest platform updates ever. Hubitat Elevation version 2.2.4 adds dozens of compatible devices, several new apps, major Z-Wave enhancements and much more.
2.2.4 Highlights:
40+ new compatible devices and drivers
Major Z-Wave improvements for Model C-7 hubs
New triggers and enhancements for Simple Automation Rules 1.1
New Hub Mesh app--seamlessly connect multiple hubs to act as one
New Thermostat Controller app
Export and import rules in Rule Machine
Create per-user access in Hubitat Dashboard
Plus so much more!
Version 2.2.4 is available to install right now in your web UI.
---