Please note that this limited release has ended. We are now waiting for Google to accept new partnerships. When Google re-opens their developer program, we will evaluate the possibility of offering this integration again. We would like to thank everyone who participated in this program. Existing installations of the Nest Integration app are not affected by this, and will continue to work. However if you remove the Nest integration app, you will not be able to reinstall it.
---
We are pleased to announce that starting today, you can add Nest devices to your Hubitat Elevation. This is a limited availability release pending Nest certification.
You can install Nest devices by loading the "Nest Integration" app. From there, you will be walked through the setup to add your Nest devices to Hubitat Elevation. (see Nest Integration Setup Process below).
Currently you can add: Nest thermostats, Nest smoke detectors, Nest cameras. You can also change Home/Away status as well as create virtual presence sensor based on Nest location mode. While video streaming is not currently supported, you can use the Nest cameras to trigger automations based on motion and sound events.
Here are some of the things you can do by adding Nest products to your Hubitat Elevation: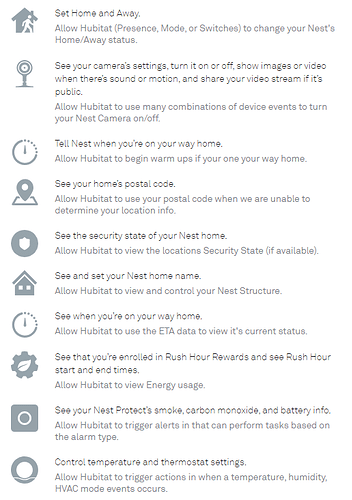 ---
Nest Integration Setup Process:
Load the new Nest Integration app

Click the link to login to your Nest account


Select your location from the dropdown menu


The app will discover your Nest devices. Use the dropdown menus to select which ones you would like to use. Nest integration currently supports Nest Thermostats, Nest protects, Nest Cameras and Presence Devices.


If you'd like to be able to update Nest's Home/Away mode from Hubitat Elevation, enable the ""Add Presence Device?" toggle to create a virtual presence sensor.

Click Done to complete the install. Your devices will be added to your devices list.
NOTE: A Nest Eventstream device will be created in your devices list. This is necessary for communication with Nest. Removing it or altering its settings could cause your automations to fail.
Your Nest devices have now been added and can be used in your Hubitat apps and automations. From the Nest Integration app main screen you also have the ability to manage your login credentials and turn on your logs.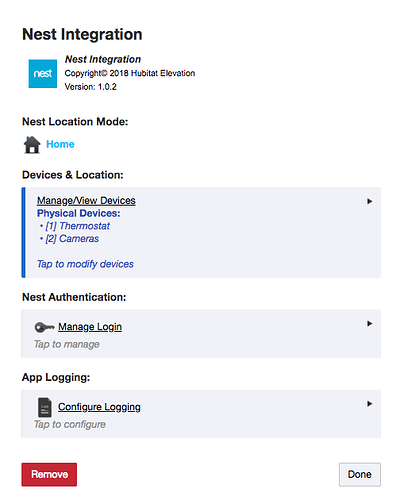 Click Done to when you are finished.
The Remove button will remove the app and delete all of your device data. To delete individual devices, use the manage/view devices link above.