@jcarreira I don't know why you think that you need to replace all of your ADT/ST devices. I have a ADT/ST Water Leak Detector, which is Zigbee, and it paired easily with Hubitat and is fully supported. I'm not very familiar with many of the ADT/ST devices, but I'm thinking that it is likely that most would work with Hubitat. Both SmartThings and Hubitat support Zigbee and Z-Wave. Do some research on compatibility before you give up on the devices you have.
From what I've read on the ST community, the dual branded ADT/ST devices are proprietary and won't work on other systems. Devices that weren't dual branded ADT/ST should work on Hubitat.
@jcarreira my advice, buy a HE C-7 hub and figure out which of your existing devices with pair/include with the HE hub using generic drivers (aka handler scripts). Then replace only the ones you can't bring over.
The compatible devices list is a little misleading, those are devices that HE staff has personally tested and/or built a customer driver. There are hundreds of more devices not on that list that will work with the generic drivers, but YMMV.
This list of devices with Community Device Drivers is also very useful:
Hey, thanks everyone! This gives me a lot to start with. Any thoughts on a wall mounted tablet? I saw this thread:
I'm wondering if there's any new thoughts. Seems like the newer Fire HD tablets are harder to root, but pretty cheap. A used iPad Mini 2 is only like $100, so I was wondering if that would work better / easier?
You can use Fire tablets with the Fully Kiosk app.
@lawsonad I don't use HomeKit, I use Alexa. What are the dashboard apps?
@wayne.pirtle is it going to bring up the lock screen so I have to swipe it away?
Also, what dashboard do I put on the kiosk app? Can I make it have a PIN to disarm the HSM?
No idea, Android, Amazon, and Google are no longer invited inside my household.

But which dashboard do you do on the iPad? Is there a native, or browser in kiosk mode? I saw someone mention SharpTools (https://sharptools.io/) and that looks pretty promising
The newer Fire Tablets, when paired with Fully Kiosk can avoid the lockscreen after going to sleep. Seems to be a relatively recent discovery as older Fire tablets could not avoid the lockscreen after turning the screen completely off (the workaround on those being to use a screensaver instead).
More on that discussion here:

Regarding SharpTools, it can be used on any modern browser including iPads, Android, Fire Tablets, PCs, etc. Fully Kiosk Browser is an app which is a popular solution for displaying dashboards on Android and Fire tablets - especially devices that are dedicated to displaying dashboards.
SharpTools dashboards can also be added directly to your mobile device's homescreen much like an app (reference).
SharpTools supports PIN protection on any tile, so you can require a PIN on your HSM tiles or any other tiles you choose.
The built-in Hubitat dashboards has an option for requiring a PIN specifically for HSM or Mode tiles. The Hubitat mobile app can also display the built-in Hubitat dashboards (on iOS or Android) and you can also add them to your homescreen (or use Fully Kiosk on Android/Fire devices).
i took a little different approach after rooting and installing custom f/w on the fire tablet there is an option to enable a pin code to unlock the tablet which is what i use.
FK can keep the lock screen from coming up. You can set FK to not allow a user to exit FK, and you can set a PIN for access. I think it I can be set by page.
I have an iPad Mini 2 setup as my only mounted dashboard. I set the iPad to never turn off and plugged it in with power from one of Makes by Mike's power supplies:
I ended-up getting mounting clips from Amazon because I was planning to use a full-size iPad that they didn't sell at the time. The clips are working out great!
https://www.amazon.com/dp/B078YR6L4K/ref=cm_sw_em_r_mt_dp_WV30EP7MS4BPKZH02S6R
I have a web browser setup with the Hubitat dashboard on it. Here is the final result: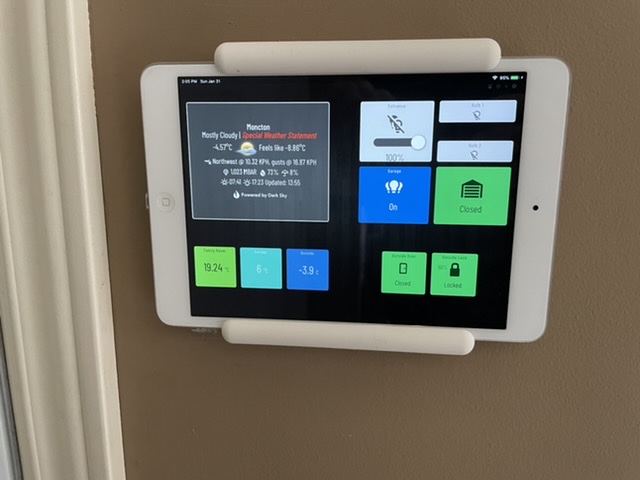 For those of you with tablets running a dashboard: Can the tablet be used as a chime or caused to respond on events like a device managed by Hubitat? I have my current ST ADT touchpad chime whenever an outside door opens and I'm trying to provide the same experience. I know I can have this happen on one of the Sonos or a siren (hopefully at low volume) but I'm just wondering if I can make it work the same as what I've got now.
I use an iPad as my dashboard and cannot use it as a chime. I use either my Google home or Alexa for this.