So I have been having a slight annoyance with modes. I would call it a bug of some type.
To start out with, I have not used Mode Manager for over a year now. It didn't do what I expected it to do, and it isn't even installed. So I hope we can exclude it for being the cause of this issue.
Instead, I use Rule Machine. It has done a fantastic job for a year or more now. See attached rule.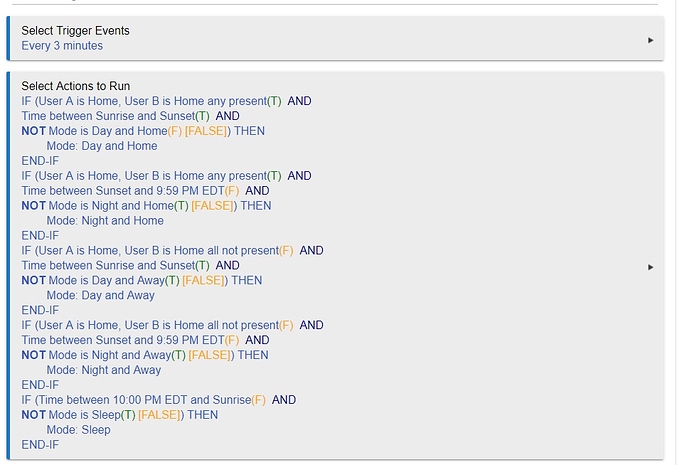 So recently after a hub update (not sure which one, events don't go back that far), this seems to have some type of bug where it switches to Sleep mode properly, then at midnight exactly it switches to the incorrect Night and Away mode. It does this consistently night after night.
So stepping through the events.
At 8:24 it was sunset, so it went into night mode.
Then at 10:00 it went into Sleep mode.
I rebooted at 11:36 to try and resolve a lock issue with the .135 firmware update. This doesn't relate to this issue. This mode bug happens without me rebooting.
At 12:00 it incorrectly goes back to Night and Away mode.
The polling by time kicks in, the rule runs, and it correctly goes back into Sleep mode.

Initially I had a much longer polling for this rule at 15 minutes. I only shortened it to try to catch and correct this sooner, otherwise all the lights and whatever would be doing the wrong thing when the house was supposed to be in a "quiet" mode (Sleep).
Other things I have tried is checking the time zone, changing to a different time zone, checking hub time, resetting my location, along with the numerous recent firmware updates, and literally dozens of reboots due to updates and other unrelated issues.
Logs don't seem to show anything unusual. All they catch is the rule running correctly, and the mode changing to the correct mode, and not the midnight glitch. I don't think it is my rule as I don't think it would be not be easy to hit midnight exactly every night with that 3 minute refresh. Also this rule did work previously.
Sunrise and sunset seems to always be correctly set in the events. This glitch only happens literally milliseconds after midnight every night.
@bravenel any thoughts?