Is there any documentation describing how to wire a MIMO2+ and configure it with HE to support integration with a garage door opener when using the built in HE driver?
Based on the following wiring approach and configuration, when I go to the child devices in HE and press "On" nothing appears to happen.
I spent 20 minutes searching the web and this forum to no avail.
I did see one post about secure communications not being supported. I'll have to check tomorrow to see if I had included it as secure.
I've got the device paired and the garage door opener button and #1 relay NO1 and COM1 wired in parallel (per the garage door opener wiring diagram for the MIMOlite). The #2 relay is not yet connected to the second garage door opener. Signal 1 and 2 are not being used given that I'll be using a wireless contact sensor to detect the garage door states.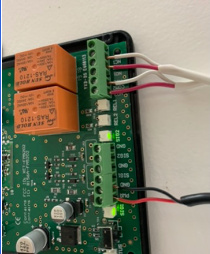 Here's the parent device configuration:
What i find odd is that the Signal 1/2 trigger fields don't appear to have the option to disable the signal trigger. Per the device docs: "CAUTION: When input-to-relay mappings are enabled, Z-Wave commands to set or clear a relay are ignored."


I read in a review on Amazon that using 1 second forces the relay to act as momentary relay.
My logs look like this for the parent device. I see no log data for the child devices.