Hubitat code experts!
I've attempted porting Brian Dahlem's SmartThings driver for this Leviton scene controller to Hubitat. Although I've followed what guides I could find and what other advice I could glean from reading through this community's posts, I am unable to achieve complete functionality. I only get button presses from one button no matter what button I push on the controllers. I can verify that the controllers in question are fully functional as I can exclude them from HE, include them with another hub/system, and I get all functions to work. I am confident the issue is with my port.
The original driver is located on BDahlem's GitHub.
The original thread from the ST community is available for review too…
Given what I know, all I did to port BDahlem's driver to HE was replace all instances of physicalgraph to hubitat, remove the blocks about tiles and simulator, and change the capability from "button" to "pushableButton." But I have to be missing some step in the parse method or maybe in handling zwave API specific details? I also suspect from the log something odd might be happening during configuration as I see "NULL" in some of the payloads spelled out. That may be an oddity of how log.debug builds string conversions. I am not using the associated load feature in my installation.
The odd bits I see in my logs look like this — the first during configuration and the second when pressing a few buttons, 1 through 4 in order, then back again.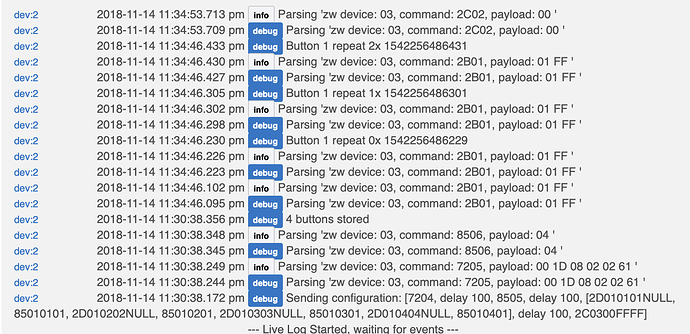 I'm really hopeful the community can do more with this port than I! I'm new here and I am eager to learn!
Thanks,
Richard